Whether the time is 3am in Bangladesh or 3pm in Ghana, Ahmadi Muslims the world over can always count on being able to head over to the website of MTA International and find a whole host of informative and useful programs, ranging from lessons in cooking to problems relating to Islamic jurisprudence.
Those shows don't just produce themselves. A large corps of men and women work behind the scenes, working on all aspects of production and programming. From MTA's humble beginnings in one room of a mosque, manned by volunteers with no training but plenty of enthusiasm, to today's state-of-the-art facilities and trained staff, the network has become a source of information and enlightenment to people across the globe, with four stations: MTA 1, MTA 2, MTA Al-Arabiyya and MTA Africa. And these four stations convey the true teachings of Islam and the instructions of Hazrat Khalifatul Masih V, Hazrat Mirza Masroor Ahmadaba, worldwide head of the Ahmadiyya Muslim Community, while also preserving the lectures and legacy of previous Caliphs, including Hazrat Mirza Tahir Ahmadrh, the fourth Khalifah who inaugurated MTA and oversaw its growth in the early years.
In honour of the 25th anniversary of Muslim Television Ahmadiyya, The Review of Religions goes behind the scenes to introduce you to just a few of the men and women who work 24/7 so that we can watch 24/7. While covering each and every department in MTA would require several volumes, we hope that these selected interviews provide a flavour of what it's like to work for such a unique broadcast network.
Ghaalib 
Khan – MTA Head of Graphics
At 31, Ghaalib Khan has been working for MTA for almost a decade in the graphics department. As a life devotee of the Ahmadiyya Muslim Community, he leads teams in making sure the graphics are fresh, new and innovative, creating new logos and other graphic elements for the channels.


What connection did you have with MTA growing up?
Watching the Urdu class [language classes held by the fouth Khalifah, His Holiness Hazrat Mirza Tahir Ahmadrh] and being part of the children's class sometimes and seeing the camera men running around. It was exciting to see and I wondered what it would be like behind the scenes.
It must have been very innovative and novel to see the Ahmadiyya community on TV for the first time.
When MTA first started it was only broadcast for a few hours and on the same frequency the Pope used to broadcast his sermon on Vatican TV and that was interesting seeing His Holiness and the Pope on the same platform because everybody knows who the Pope is and it showed the progress of the Jamaat [community] at that time.
How did you get involved with MTA when you were younger?
When I was 15 or 16 I did graphics and editing and for a few weeks in my summer holidays I went into MTA to help out but I had preconceived ideas about an international studio and a TV channel so when I got to Fazl Mosque and saw small rooms with only a few volunteers I was shocked that the whole channel was based out of such a confined space.
I remember seeing a tiny studio, small control room and an editing and graphics room which was tiny but it was really being used and everyone was busy which showed the enthusiasm and passion people had at that time to serve the Jamaat and make MTA as big as it is now. When you think of BBC or big broadcasters it looked completely different to MTA at that time but it has grown a lot since then and all the space was made use of.
In the graphics department what are the main technological advancements that have taken place?
The computers have become more advanced and we have become more efficient and doing better quality work. We are progressing more in 3D animation, which can be time-consuming and process-intensive. Previously the 3D animations for MTA used to take days and would only be utilised once or twice a year but now we can produce better-quality 3D graphics with a faster turnaround. We are constantly using new computer software and technologies to keep our broadcast up to date and to match current trends in the broadcast industry. The graphics department has also benefitted from new staff coming in who have specific skills and qualifications relating to graphic design and arts.
What impact has Huzoor [His Holiness] had in the work you have done?

I was honoured to be present in a few mulaqaats [audience] with Huzoor accompanied by other team members on special projects. Recently I was given the opportunity to rebrand all the channels in MTA in terms of logos and graphics. Once we had a mulaqaat with Huzoor and I presented a new logo to Huzoor and I was worried because the design I did didn't have much depth to it, but I had a concept, which was fresh and new. It was a set of rings that spun around and I thought it represented a globe but Huzoor saw the design and said it reminded him of a rope and if it was slightly redesigned it could be seen as the rope of Allah [a reference to the Holy Qur'an, Chapter 3, verse 104, which states, 'And hold fast, all together, by the rope of Allah and be not divided']. This was an amazing comment from Huzoor because it perfectly represents how MTA keeps the global community connected and now that we've implemented the design on our worldwide broadcast I can see how Huzoor's insight is so far-reaching and knowledgeable. So Huzoor gets involved and motivates us with new ideas and advice for things we haven't seen before.
Umar Safir – Director of MTA Africa 
In 2016, MTA International inaugurated a new channel: MTA Africa. The new channel broadcasts programs from MTA 1 while also focusing on content specifically for a pan-African audience. Umar Safir is the director of this new channel. 
You are currently serving as the director for MTA Africa. How was the idea of starting MTA Africa conceived?
The idea originated from the Real Talk series filmed in Ghana. During that series the late Wahab Adam Sahib [former National President of the Ahmadiyya Muslim Community in Ghana] introduced us to one of the directors of Ghana National TV (GTV). He was the producer of the only Islamic program that was aired weekly, called Islam and Life. We informed him about the Ahmadiyya Muslim Community's annual convention in the UK (which was a few months away) and proposed the idea to invite him to the Jalsa [annual convention], in which he could broadcast the Jalsa proceedings as part of his weekly slot on GTV. This had a great impact on the viewers and we received phenomenal feedback from people in Ghana. In the following year (2014) this increased to a 90-minute slot covering each day. This again proved to be very popular with the audience.
One thing I would like to mention here is that behind the scenes, the late Abdul Wahab Adam Sahib was instrumental in forming a collaboration between Ghana National TV and the Ahmadiyya mission in Ghana. The collaboration involved the proposal that GTV would air programs prepared by MTA on a regular basis. In return MTA International would train their staff members of GTV and provide their expertise. As a result of this, in 2015 GTV aired 8 hours of the UK Annual Convention. In the background of all this, a small team was being formed, consisting largely of volunteers who began to make programs on various topics. These were the initial seeds sown for what is today known as MTA Africa.
How did this then develop into MTA Africa?
Until now this was known as the 'Africa Project' of MTA International. However, the vision of a separate channel dedicated for the African continent was the sole vision of Huzoor [His Holiness, Hazrat Mirza Masroor Ahmadaba, the Worldwide Head of the Ahmadiyya Muslim Community]. In one of my official meetings with Huzoor, we were instructed to set up a studio, even if it was a small room in the mission house in Accra, Ghana. I then travelled to Ghana and along with the late Abdul Wahab Adam Sahib we immediately began searching for a viable prospect for the studio. During our search we came across a large plot of land that was owned by two members of the community at a bit of a distance from the Accra mission. The late Wahab Sahib wrote to the two Ahmadi members and informed them that the Jamaat was looking for a place to build studios and [asked] if they would be willing to sell that piece of land. However, their dedication was such that when those two Ahmadis learnt of the fact that this was required for the purpose of spreading the message of the Promised Messiahas, they immediately offered to donate their land for the services of the Jamaat.
Thus, this plot was acquired for where the studios are situated today.
Initially the amount required for the build was more than we had expected and I was quite nervous to present such a large amount during a meeting with Huzoor. However, Huzoor graciously approved the amount and set out his vision for the studios. Hence the construction of a purpose-built studio began. The studio is now complete and fully functional with a dedicated team on site. In the proposal Huzoor instructed to suggest a few names for the new studios. Deep down I really wished for it to be named after the late Wahab Adam Sahib as he instrumental in implementing the guidance received from Huzoor. Therefore in a personal meeting I gave a list of proposed names, among them I put the name 'Wahab Adam Studios'. To my great amazement Huzoor looked through the entire list and chose the name 'Wahab Adam Studios' and further stated that since he was a pioneering missionary, the people of Ghana would appreciate this gesture.
When was MTA Africa officially launched?
MTA Africa was officially launched on 1st August 2016, but you will be interested to know that just before Ramadan (of the same year) I had an official meeting with Huzoor to discuss the satellite contract, which was due for renewal. In this meeting Huzoor said that I had one month in which to prepare a feasibility report into launching the new channel. By the grace of Allah, since the other African countries had been regularly contributing in making new and innovative programs, so we had a few months' worth of content of programs. Thus, within this time frame we managed to complete the research and Huzoor officially launched MTA Africa on August 1st, 2016
Now that MTA has a channel specifically catering for Africa, how has this addressed the needs of the vastly diverse continent?
We actually have 2 channels, MTA Africa 1 and MTA Africa 2. MTA Africa 1 covers the entire African continent whereas MTA Africa 2 is mainly for west Africa, producing programs in local languages.
In terms of the content of the programs I would like to share an interesting incident. We prepared a program called The Truth Unveiled. Whilst I was showing this program to Huzoor, midway through the program Huzoor enquired whether this would be viewed by Christians. I replied that there is a large Christian viewership. Huzoor then immediately turned to the beginning of the program and made certain changes, stating that it may hurt the sentiments of the Christians. In fact he picked out a verse from the Qur'an to use that would convey our message, whilst at the same time not offend feelings of others. Huzoor's guidance was extremely valuable in that it served as a guide in producing all future content, whereby religious sentiments of people of all faiths must always be respected.
What impact has the channel had since its launch?
On each of our programs there is a hotline at the bottom where people can call in and leave their feedback or seek further information. This has proved to be extremely beneficial in spreading the true message of Islam. We receive countless phone calls from people expressing their interest and wishing to learn more about the community. Currently there is a team consisting of the students of Jamia Ahmadiyya Ghana, who help with answering any queries. Thus it is proving to be a powerful tool for tabligh [preaching the message].
Aside from our two MTA Africa channels, our message is being broadcast on the national television stations of Ghana, Uganda, Sierra Leone and Nigeria. Additionally, our studios are operational in eight countries.
Munir Odeh – Director of Production, MTA International
As Director of Production, Munir Odeh has the monumental task of overseeing the production of all programs. As an early volunteer for MTA, he has witnessed the phenomenal growth and progress of the network firsthand. 
You have been a part of MTA from the beginning. Prior to the start of MTA International, how was the message of Hazrat Khalifatul Masih [the worldwide head of the Ahmadiyya Muslim Community] conveyed to the members of the community?
It's interesting you ask this question because my childhood years were spent in Kababir [a town in Israel] where we would receive Huzoor's Friday sermons on cassettes and as a young boy I remember typing out the whole sermon, but not in the traditional manner as we know typing in the computer age. In fact, we would manually print each letter of the alphabet onto a template to be printed on a larger scale. This process would take us weeks and only after a few months was each Friday sermon available in print copy. But the launch of satellite television and MTA in particular has projected the voice of the Khalifah all around the world. At times during his tours, Huzoor travels to some of the most remote parts of the world, yet his voice could still be relayed instantly throughout the globe.
For example, once Huzoor was on a tour to a village in Burkina Faso. He asked if the Friday sermon could be televised live on MTA. With the facilities at hand it seemed like an impossible task. However, it occurred to us that we could perhaps transmit via telephone. So I decided to obtain an international line so we could transmit the audio. When Huzoor came out of his residence, as there was no picture video being relayed I decided to audibly narrate the scenes to the listeners worldwide. At the flag hoisting ceremony I managed to get the telephone near Huzoor just in time for the conclusion of the prayer. When Huzoor said 'Ameen', this was heard by listeners all over the world and this was especially mentioned by people from around the world saying they heard the Khalifah's word at that time. So in essence, MTA is the platform that connects the Khalifah with the people of the world instantaneously, irrespective of which region of the world they may belong to.
Even today having a satellite TV station is unheard of for a community of such a scale. What were the challenges faced in the beginning?
This was truly the vision of Hazrat Khalifatul Masih IVrh [fourth worldwide head of the Ahmadiyya Muslim Community]. Initially when Huzoor expressed his wish to launch a television station, the consensus was that it was impossible to do owing to various constraints. In the beginning the resources of the Jamaat were limited both financially and in terms of the expertise to run a television channel. The cost to acquire a satellite was in the millions, however when Huzoor made the call to raise funds for this project, people responded to this call with open hearts. Similarly, Ahmadi youth from all walks of life, who had no prior experience of broadcasting, sacrificed their time to run this channel.
In the beginning we had a room that was not bigger than 3 metres by 3 metres. That room was the studio as well as the library, editing suite, meeting room. Everything associated with MTA would take place in this room. We would spend all night editing the programs recorded in the day. Some of the volunteers would come straight from work, spend all night long with us and with minimal sleep, go straight to work the next morning. However, these efforts never went unrewarded. There were many occasions when Huzoor would come down from his residence and give us a basket of fruit or chocolates, etc. These were the humble beginnings of MTA but more importantly it shows that only a Man of God could have defied the odds and pushed on for a seemingly impossible task and actually succeed.
You have the opportunity to work closely with MTA Al-Arabiyya (MTA 3) How pivotal has this been in spreading the true message of Islam to the Arab world?
Like with anything in our community, it was purely the vision of Hazrat Khalifatul Masihaba that enabled this project to succeed. In the beginning of this Khilafat, Huzoor narrated some of his visions pertaining to the Arabs accepting the message of the Promised Messiahas in large numbers. It was Huzoor who inspired us to search for the prospect of hosting another channel for the Arab-speaking population. It was nothing short of a miracle in the way we managed to secure the contracts for the broadcast of the Arab programs (the precursor of MTA Al-Arabiyya). Hence MTA 3 has become a means to fulfil the vision of Hazrat Khalifatul Masih Vaba. We have witnessed countless people from all over the world who have seen the Promised Messiahas or the Khulafah in their dreams and simply flicking through channels on the TV they stumbled across MTA and the path of salvation.
As the director of MTA Productions, you have had the opportunity to travel with Huzoor on various tours. Give an insight into how MTA covers these tours.
MTA tries its level best to capture every word of the Khalifah and to relay that message to the eagerly awaiting Ahmadis worldwide. At the same time, it tries to capture the emotions of the Ahmadis; however this is not a task that can be captured through the lens of a camera.
One thing I have seen on these tours is that the attributes of God are reflected through the personality of the Khalifah. The love and affection, attention to detail, meticulous planning, connection with the public and speed of their work is impossible to match. It is truly a wonder how a Khalifah manages to fulfil all their duties in such an excellent manner, but at the same time give time to their staff members and show them the love they do.
Tehmeena Luqman – Head of Ladies' Production Team
Tehmeena Luqman is the Head of the Ladies Production Team and manages a team carrying out a range of duties, including production of pieces for all four channels and creating subtitles in a variety of languages for MTA International's global audience.
Tell us a bit about your personal and professional background before joining MTA.
I was born in Rabwah, moved to the USA at a young age in 1984 and lived in Portland, Oregon, from 1985-2004. I have a bachelor of science degree in rhetoric and media studies and a master of science in human rights from the London School of Economics and Political Science. I intended to go into Journalism and International Relations so started working at the ABC News affiliate [local television station] in Portland in college as a news writer and did that alongside school and other jobs for several years.
What is your position at MTA, and what are your job duties? 
I am currently the Head of the Ladies Production Team, within the MTA International Production Department. My duties are incredibly varied but basically involve implementing tasks and projects assigned by the Director of Production, Munir Odeh. We essentially have two main areas of work – production and subtitling. Production involves filming of all of Huzoor's [His Holiness, Hazrat Mirza Masroor Ahmadaba] events, filming and editing pieces for Jalsa [annual convention of the Ahmadiyya Muslim Community], Ramadan, or any time really, making programs and documentaries, editing fillers for broadcast, etc. We make programs and pieces for all platforms – MTA 1, MTA 3, MTA Africa, social media.
Our other main area of work is subtitling, which is also quite varied. This involves regular transcription of programs, speeches and events in order to provide transcripts for translations for subtitling in other languages such as Arabic; translations of programs and pieces particularly Waqfe Nau classes that air weekly but also many other things as well; and then actual subtitling of programs in six languages for now. I am responsible for coordinating all this work across countries and teams and making sure it is done every week.
How did you start getting involved with working for MTA, and what other positions/duties have you had there? 
I first joined as a news writer [in 2001]. I would write news scripts from home in the USA at about 3am and send them to London a couple of times a week. I became Head of the News Editorial Team a few years later. In January 2009,  the entire way news was done was re-vamped and we were all called in to discuss how to move forward. MTA had invested in the Reuters news service which would now provide up to date video and content for news and that required someone to be present everyday to write, edit scripts and check video content. Huzoor graciously approved me as the first female employee of MTA. I started my full-time employment April 1st, 2009 as MTA News Producer, which I held until May 2015.
Describe a day in the life working at MTA
It is really varied depending on time of year and really every day can be different for me because I am managing a team and also just carrying out the day to day work.
In the past week, I have subtitled programs in French and English, uploaded programs to onDemand/YouTube, video edited and dubbed a documentary for French stream, had meetings with management regarding upcoming projects, met with my own team members to assign work for Jalsa, was interviewed for a documentary to air at Jalsa, watched and critiqued documentaries our team is making for MTA 3, liaised with MTA Africa and MTA 3 for Jalsa projects, managed the transcription and subtitling of half the Qur'an for Ramadan tilawat [recitation of the Holy Qur'an] broadcast – and then lots of troubleshooting of transmission issues, computer problems, booking equipment with stores, liaising with parents and children who will be appearing in our Jalsa pieces, etc.
Could you talk a bit about how involved Hazrat Khalifatul Masih Vaba is with MTA and how his instructions shape programming and how MTA moves forward?
Huzoor is absolutely involved in the day to day running of MTA and everything is done with Huzoor's guidance and instruction. For example, in the first week of Ramadan, Huzoor instructed Munir Odeh sahib that the tilawat airing everyday in Ramadhan should be subtitled. Within two to three days, the first subtitles aired and have now been airing through the end of Ramadan. So simple instructions like that are very common and we get them constantly.
Many documentaries and programs that air are also seen by Huzoor before they air. We made a series of children's fillers for Ramadhan that were taken to Huzoor and approved for airing.
One thing that we are keenly aware of is that Huzoor's vision is light years ahead of where we are now and ahead of anything we can imagine. We may think that we are doing something incredible – like subtitling or something – but to Huzoor those are all givens and actually his vision is far ahead of what we are doing now. Everyone at MTA has their own way of doings things and personal preferences or wishes, but the guiding hand of Khilafat keeps us all moving in one direction – forward.
What kind of impact have you seen MTA make in general? Can you give some examples?
Working within MTA, we are constantly inundated with messages and comments from people about how important MTA is in their lives. I get women on a weekly basis asking me about what programs are being made for women and children and that their families still watch Real Talk or that they saw something they really liked or even something they didn't like or offering advice or comments about what they would like to see. Real Talk Ladies had a big impact because it was the first of its kind program that aired regularly featuring ladies so its still in people's minds. Parents would tell us that it was nice for their daughters to see confident women on MTA speaking their minds while still practising Islamic values – we still get regular comments about it.
Subtitling has had an amazing impact. Many parents tell us that they sit their children down to watch khutba [Friday sermon delivered by  the worldwide head of the Ahmadiyya Muslim Community] when they know subtitles will be on or they ask us when Waqfe Nau classes will air because they know it has subtitles now and their kids will be able to understand. Same is true for converts or people with limited Urdu skills who have told us – even in tears – how much of an impact subtitles has had because they can hear beloved Huzoor's voice for the first time in a sermon while also understanding exactly what is being said. Some people will also just contact us directly and ask when a certain address or program will be subtitled.
What else would you like people to know about MTA and its work? 
Every one of us that has the opportunity to work or volunteer or contribute in any manner is blessed beyond measure – we know that we are here not because MTA needs us, but because we need MTA. We are all replaceable and there is nothing in our own efforts that makes MTA what it is. This opportunity is so precious for each one of us and we are fully aware of that. Its the Hand of Allah at work and the guidance of Khilafat that makes MTA what it is.
Dr. Sarah Waseem – Volunteer, MTA Production
Dr. Sarah Waseem is one of the many professionals who volunteers her spare time to work producing programs for MTA International. A practising clinical psychologist, she works at a wide range of tasks at MTA, including directing and scriptwriting.
Tell us a bit about your personal and professional background before joining MTA
I was, and still am a Clinical Psychologist working in the National Health Service here in London.
What is your position at MTA, and what are your job duties? 
I work in the MTA Productions team headed by Munir Odeh sahib. My post involves filming, editing, scripting and at times, directing various programmes that we produce here in MTA.
How did you start getting involved with working for MTA, and what other positions/duties have you had there? 
I was asked to join the MTA news team around 1993 and then headed up a ladies' news team for several years afterwards. The role of the team was to put together news stories. Over time the team expanded and we were able to work as an international news team, with writers in the US, Canada, Azerbaijan, etc.
I was also a member of Huzoor's [Hazrat Khalifatul Masih IVrh, fourth worldwide head of the Ahmadiyya Muslim Community] children English class team. This involved helping with scripting, scenery, and training the children to present in the classes. We would put together weekly programmes which were then presented by the children in front of Huzoor
Around [the year] 2000, I was asked to form a ladies production team. We started out literally knowing nothing about filming, editing or production and essentially trained ourselves up.  Our team was quite small initially and was independent of the other MTA teams – we had our own budget, etc. Huzoor (Khalifatul Masih Vaba) then reorganised MTA's internal structure and the team came under the Productions directorate. At this point, Tehmeena Luqman, who was employed as the first full-time female staff member at MTA, became head of the team.
Describe a day in the life working at MTA
I am a volunteer so work mainly at the weekends. There is no 'typical' day because what I do depends on what we are currently working on. So it might be that I am directing a film shoot or scripting.  At other times, we may be asked to do some transcription work for translation purposes, depending, again, on what needs to be done .
Could you speak specifically about how and to the extent which women are involved in operations at MTA?
Women are involved in most of the MTA departments – from the scheduling of programmes to production, subtitling to translations. They are involved in social media which is a growing field.  So too is subtitling, which is now done in a variety of languages. This will increase as further languages are added; currently most of the emphasis is on subtitling Huzoor's programmes, but this is going to expand. To date subtitling has been in English, Arabic, German, Urdu, Japanese and French. There are now women's teams around the world – in Bangladesh, Mauritius and Canada, with whom we work.
What is your favourite part of the job? What is easiest? 
Working for MTA is my favourite part of the job! I regard it a blessing to be able to serve Khilafat and the jamaat.  I guess, overall, editing is my favourite task. It requires vision, and creativity but is also very challenging as we are constantly learning and improving.
It is difficult to say what is the easiest.  My professional background means that I think interviewing comes to me quite naturally and I do enjoy meeting people and hearing their stories.
What is the most difficult part of the job?
I honestly enjoy all aspects of work at MTA. Given that media is not my background, I find that I am constantly learning. MTA is like 'therapy' for the 'day job'!
What advice do you have to give people who might want to volunteer or work for MTA? 
Go for it! But remember that it requires total dedication.  [To paraphrase JFK], think 'not what can I do for MTA but what can MTA do for me.' I have been so blessed to be a very small part of MTA and have learnt so much that I would never have learnt had I not had this opportunity. To serve in MTA directly under the auspices of Khalifat is a blessing. It is very hard work as well, mentally and physically. Try carrying a tripod and camera around Hadeeqatul Mahdi [large outdoor site for the annual convention of the Ahmadiyya Muslim Community] on a hot day!
What is your favourite MTA program? 
I like some of the documentaries produced. I like listening to Huzoor's classes now that they are subtitled. Listening to the Friday sermon as Huzoor speaks Urdu and being able to understand it via subtitles is truly wonderful. (I don't speak Urdu well at all!) I don't think Urdu speakers can fully appreciate what it means to hear the voice of our Khalifah and simultaneously read a translation in English. Pure bliss!
What kind of impact have you seen MTA make in general? Can you give some examples?
I think the move to transmitting via digital media has been massive – MTA on demand, on iPhone, tablet, etc. I know many people who listen this way. It has really expanded the reach of the message of Ahmadiyyat.
What else would you like people to know about MTA and its work? 
Listen to MTA. Send in your comments – it all helps improves things. And pray for us and of course Huzoor.
Syed Aqeel Shahid – Director of Transmission
Once the programs are filmed and finished, the work isn't done – they still need to reach you, the viewer. Syed Aqeel Shah ensures that MTA's polished programs reach their destination by heading the transmission department. 
When did you join MTA?
Well before MTA started, in fact. I have had the opportunity to be there from day one. I was fortunate enough to be in the meeting when Huzoor [Hazrat Khalifatul Masih IVrh, fourth head of the worldwide Ahmadiyya Muslim Community] said that he would like to present the Jamaat [community] with a gift. We were all puzzled as to what that could be. Then he mentioned that he would like to start a television channel, which may be difficult in the beginning, but will prove to be beneficial in the future
What was your role in the early days of MTA?
I was actually appointed initially as head of productions. The Jaswal brothers [early volunteers with MTA International] were appointed to deal with the transmission side of things, whereas I was made head of productions. That is how the production department came into existence.
Could you explain in a few words what transmission entails?
Transmission is a very technical department but without going into any technical aspects I will simply say that it is the responsibility of the transmission department to produce those services whereby people can receive MTA through satellite.
How has the MTA transmission department evolved over the years?
I have seen transmission evolve firsthand. The fact of the matter is that technology itself has advanced and evolved. Initially we ran on analogue, which included heavy machinery that took up a lot of space and power. This therefore had a lot of drawbacks. However, with digital things have become a lot easier. Not just this, in fact, with the advancement of technology, things have become a lot more accessible as well as becoming cheaper to acquire.
If I were to travel to any destination in the world, would it be possible to receive MTA?
Yes, by the Grace of Allah, MTA transmits to every continent in the world and is a key tool in in spreading the message of Islam and Ahmadiyyat throughout the world.
Raqeeba Gulzar – Senior Volunteer, Scheduling Department
Raqeeba Gulzar is a long-time volunteer with MTA, working on a task that is all but hidden from viewers, but which is vital to the functioning of MTA: scheduling.
Can you tell us of the background of the MTA Scheduling department?
Alhamdolillah [all praise is due to Allah], MTA International is celebrating its 25th anniversary this year and I'm very pleased that the ladies have been playing a very important role in MTA since day one.
They had already converted part of Mahmood Hall [a large room in the Fazl Mosque] into small cubicles, and in each cubicle there was one video player, one video recorder and some blank tapes. In those days, only a few ladies from our jamaat [community] knew how to record any events, or to edit from one tape onto another. By the grace of Allah, I had a bit of knowledge in this field, because my husband, Mashood Ahmad Gulzar, was part of the audio visual department of UK [central branch of the administration of the Ahmadiyya Muslim Community], and their work included recording Hazrat Khalifatul Masih IV'srh Friday sermon, question-and-answer and Jalsa Salana [annual convention of the Ahmadiyya Muslim community] proceedings. These programmes were recorded for archive purposes, but now these programmes are scheduled on a daily basis and are broadcast all over the world through MTA International.  They explained to me how to dub programmes from the original tape onto a blank one, leaving a space of 1-2 minutes to be filled later on by inserting the title of the programmes. I was told to form a team of ladies and to train them as there was only a few [pieces of] equipment available, a duty rota should be made for a smooth workflow. The ladies would have the priority to work during the day time and the young men would work during the evenings. This arrangement was also made in order to observe purdah [Islamic separation of men and women].
Within a week a team had been formed – our job was to prepare programmes for one month at a time, consisting of 12 hours a day.  The only contents that were available to us were Friday sermons, question-and-answer sessions and Jalsa Salana speeches. We had to work long hours starting from 6am – 6pm. We had to prepare 300 hours of tapes of programs to be sent to Russia to be broadcast from there. And when the programs were ready, then we had to prepare a schedule for it as well. In those days we didn't have a computer, we didn't have all these new instruments, so we had to prepare it by hand. So we had a piece of paper and would manually put all the details on there.
In 1994 programmes were transmitted directly from London to the rest of the world and scheduling in its true essence began in a small room above Mahmood Hall in Fazl Mosque.  For the first six months just a handful of ladies voluntarily gave 12-18 hours daily to meet the day-to-day running of MTA International.
Explain the workings of the scheduling department
MTA launched as a global 24-hour channel on April 1st 1996 and since then, the MTA scheduling department has grown and developed to a new revolutionised method of electronic scheduling using a unique in-house system created by the MTA male staff themselves. Until recently, the scheduling department has always been completely voluntary, open 7 days a week as a functioning, lively office that consists of voluntary workers from young students to mothers and mature members of the Jama'at. Due to the ever growing demand of the scheduling department, we now by the grace of Allah have two women waqf-e-zindagi [life devotees of the Ahmadiyya Muslim Community] working for us also.
The scheduling department is an integral part of MTA International working behind the scenes.   Scheduling is primarily involved in the preparation of programme listings. Under the umbrella of scheduling, many other tasks are carried out which includes the Electronic Programme Generator (EPG) which began in April 2001 when MTA moved onto SKY Digital. This allows for programme listings to be displayed on TV so viewers can select programmes and view information about them.
The scheduling department also deals with tapes from all international MTA studios from such a vast variety of countries including Indonesia, Bangladesh, Australia, Pakistan, Germany, Kababir (Israel) to name but a few. In the beginning, we dealt with about 15,000 tapes which are also entered into an electronic library database which includes all relevant information about each programme on that media. A daily metric was devised under the strict guidance of Hazrat Mirza Tahir Ahmadrh to create slots corresponding to each countries' peak viewing hours as MTA is an international channel.
How many workers do you have now?
Alhamdollillah, MTA has grown from one hour of transmission to 24 hrs, from one channel to five channels growing. In the beginning I used to work seven days a week. [Now] we have 35-38 women which include university students, young mothers and older women who are all very committed and dedicated to completing the work. Currently I have a team of three deputies, a team of schedulers and assistants, database team and EPG team all working closely together under the direction of Zaheer Khan Sahib [Director of Scheduling]. We are just like a large family – an MTA family.
Can you tell us about the love for Khilafat as well as Hazrat Khalifatul Masih IV'srh and Hazrat Khalifatul Masih V'saba  keen interest in your department?
There is the prophecy that 'I shall cause thy message to reach the corners of the Earth'. MTA plays an important role in this by contributing to tabligh [propagation and preaching]. Hazrat Khalifatul Masih Vaba frequently graces us with His presence in the office which shows his interest in our work and his love for us. When we see our beloved Huzoor (may Allah be his Helper) standing at the door, we cannot express our feelings; we are surely the privileged ones.
How has Khilafat guided you in terms of improving the MTA Scheduling work?
At the very beginning, a plan was devised to determine which programmes should go on air which was under the strict supervision of Hazrat Khalifatul Masih IVrh. Hazrat Khalifatul Masih IVrh [fourth head of the worldwide Ahmadiyya Muslim Community] said it was his pride to see the girls working here. Even today we work under the divine guidance of our beloved Huzoor. The scheduling department continues to function only with the blessings of Khilafat and the prayers of the Khulafah and Jama'at-e-Ahmadiyya across the globe and Inshallah [God willing] MTA will continue to progress beyond our imagination.
Ataul Mujeeb Rashid – Director of Translations
As a global news channel broadcasting in many languages simultaneously, MTA International requires a robust translation department. Ataul Mujeeb Rashid manages the dazzling array of languages and dialects, ensuring as far as possible that the message of Islam and Ahmadiyyat reaches every person in their native language.
Tell us about the work of the translation department
By the Grace of Allah the Almighty, MTA International broadcast programs in eighteen different languages, including Urdu, English, Bengali, French, German, Arabic, Turkish, Swahili, Indonesian, Persian amongst others.
One of the main purposes of MTA is to project the voice of the Caliph to all parts of the world. A key programme in the weekly schedule is the Friday sermon, delivered by His Holiness, Hazrat Khalifatul Masih Vaba from the Baitul Futuh Mosque, London, and is broadcast in seven languages simultaneous to the live Urdu. Ahmadis around the world await eagerly to hear the voice of their leader and can choose from an array of languages through the blessings of MTA.
Aside from the live Friday sermon of Hazrat Khalifatul Masih Vaba, many other highly informative, beneficial and immensely faith-inspiring programs are broadcast in various languages. For example, Hazrat Khalifatul Masih IV'srh question-and-answer sessions, Liqaa Maal Arab programs, Qur'an classes, Rah-e-Huda [an Urdu question-and-answer program], Shotter Shondhane [a program in the Bengali language], Al-Hiwarul Mubashir [Arabic language program] and many more.
All of these programs by the Grace and Blessings of Allah the Almighty are televised in Urdu, English, Bengali and Arabic and are translated in a wide range of languages as mentioned above so that everyone around the globe can benefit from these programs. So MTA is a channel that does not only cater for a particular group of people; rather, it equally caters for the needs of everyone around the world.
Asif Mahmood Basit – Director of Programming
Asif Basit is Director of Programming at MTA International. In this position, he commissions new programs from countries around the world and assesses the programming needs of a diverse global audience so that MTA International can continue to fulfil its mission. 
Tell us a bit about your personal and professional background before joining MTA
My educational background is that I have a masters degree in philosophy. Before coming to the UK, I was a teacher of English and Urdu language and literature. I devoted my life for the services of the community. Huzoor-e-Anwaraba [Hazrat Khalifatul Masih V, worldwide head of the Ahmadiyya Muslim Community] graciously granted me this opportunity in 2004. Soon after I was appointed to MTA International and have had the opportunity to serve in various capacities.
What is your position at MTA, and what are your job duties? 
Initially I began working in the MTA news department and would read the news in the Urdu language. After this I was appointed as the supervisor of the news department. In March 2013, MTA underwent some internal administrative changes. As a result of these changes I was appointed as the Director of Programming in March [2013].
For the benefit of the readers, could you briefly explain what programming department entails?
The programming department is a fairly new department and was established in March 2013, when Hazrat Khalifatul Masih Vaba established the new management board. In light of the guidance received from Huzoor-e-Anwaraba, it is our duty to assess what type of programs are required on MTA. Then keeping our viewership, as well as the traditions of the Ahmadiyya Community, in mind, we commission the programmes to be filmed in the various MTA studios around the world.
Naturally this process of commissioning a program to eventually receiving the fully edited
file can take a matter of months, therefore meticulous planning is required to ensure the program is filmed and received in time for the required broadcast date. More importantly it is our responsibility to ensure that the content of programmes fall in line with the policy of MTA International as prescribed by Hazrat Khalifatul Masihaba.
Describe a day in the life working at MTA and the challenges you face
No day in MTA is like another. Each day brings new challenges but at the same time it also grants new opportunities for us to witness the rewards of Allah the Almighty. We receive programmes from our foreign studios that are extremely diverse in their content and are in different languages. All these programmes have to be checked before being aired. In order to be able to maintain an eye for detail is a real challenge. One can never be bored because of the enormous variety of content that we receive, which then has to be checked before handing it over to be aired.
Having said this there is one thing that we must always bear in mind and that is that the one programme that MTA actually exists for is the Friday sermon of Huzur-e-Anwaraba. Any other content apart from his sermons and his programmes are nothing except for fillers that have to work as marshals, leading viewers to that one source of guidance and enlightenment.
What is your favourite part of the job? 
The best part of our duty is the invaluable guidance we receive directly from Hazrat Khalifatul Masihaba on a daily basis. Until we receive the go-ahead from our beloved Imam for a particular program, there is never a point where we can be satisfied with our work. It surprises me to see how closely and keenly Huzoor watches all the programmes and guides us on matters which apparently may seem trivial, but the depth is revealed only once it has been explained to us by Huzoor-e-Anwaraba.
What else would you like people to know about MTA and its work? 
Every organisation requires a team to function. The same can be said for MTA. No single department can work singlehandedly in order to run MTA. We all work hand in hand and enjoy the benefits of teamwork and collective effort. I would like to take this opportunity to acknowledge the fact that I have not seen a more dedicated team than the workers and volunteers of MTA International, who work around the clock with full devotion to ensure the smooth running of MTA.
May Allah enable us to live up to the expectations of our beloved Imam.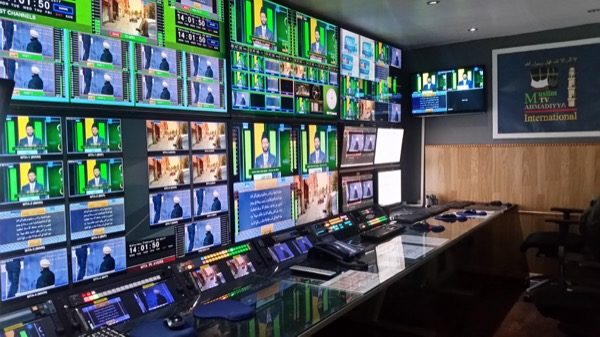 Munir-ud-Din Shams – Managing Director of MTA
As Managing Director of MTA, Munir-ud-Din Shams took the opportunity at the MTA International 25th anniversary dinner, he reflected on the past and future of the station in his introductory speech.
On the humble beginnings of MTA International: 
By the sheer grace of Allah the Almighty the organisation has grown from strength to strength each year under the direct guidance of Khilafat-e-Ahmadiyya [system of caliphate in the Ahmadiyya Muslim Community.]
We [initially] only had a 10 feet by 10 feet room adjacent to the Mahmood hall stage which not only served as a studio but our entire video library was also housed in that room, which was draped in ordinary curtains. We had one video camera and few ordinary flood lights were used for lighting.
On the progress MTA today: 
Alhamdolillah [All praise is due to Allah], not only those fortunate enough to have been part of MTA's history from the beginning, but the world at large, has witnessed that in only 25 years MTA International is now transmitting 5 channels, 24 hours a day with state-of-the-art studios, innovative broadcast facilities, latest cutting-edge cameras and technically advanced protection facilities.
There are nearly 20 international teams that produce content in over 16 languages, broadcast over 10 satellites globally.
On the blessings of Khilafat:
The seed that was sown during the time of Hazrat Khalifatul Masih IVrh continued to flourish in leaps and bounds after his demise, and a new era in the blessed journey of MTA international began.
Under the dynamic directions of Hazrat Khalifatul Masihaba and as a consequence of his continuous humble supplications to the Divine, MTA International kept embracing new advancements and has achieved new heights, where we stand today.
Huzoor's charismatic personality graces the screens of millions. He touches their hearts and communicates with the community members throughout the world.