The religious landscape of Japan is largely characterised by syncretism – meaning that people identify with more than one religion and at times with a combination of two or more. For many Japanese, Shinto, Christianity and Buddhism are all mixed together. As a child, one is taken to Shinto shrines and as an adult; one attends both Christian chapel weddings and Buddhist funerals.[1]
The most commonly linked religions, however, are Shinto and Buddhism, and most Japanese do claim some kind of adherence to both or to neither. The difference between these two faiths according to Kevin Doak, a professor at Georgetown University, Washington, D.C., specialising in Japanese studies, is that Buddhism focuses on death and funerals because of its explicit doctrine on life after death while Shintoism is more a celebration of life and rites of passage:
'They can still call on Buddhist monks for funerals and Shinto officials to 'bless' major life events,' Doak said.
Religion in Japan is a blend of traditions that stem from the early teachings of Shintoism and Buddhism as opposed to a set of specific beliefs and doctrines that are practiced on a daily basis. Today in Japan, people observe rituals and festivals ranging from 'memorial visits to graves, to New Year visits to shrines and temples.' Purchase of amulets and other lucky charms, visits to diviners and belief in miracles are all commonplace in Japanese society.[2] This ability to easily navigate between religious beliefs precludes the need to commit to any particular faith, reinforcing the concept of 'mushukyo,' which literally means 'a lack of religious beliefs.'
The result is a diminished role for institutionalised religions in the everyday lives of a large percentage of Japanese people today. Fifty-two percent of the nation's population identify themselves as non-religious, 41 percent as Buddhists, with Shintoism and Christianity tied at 3 percent according to a 2012 poll by the Pew Research Centre.
The Pew figure showing Shinto followers at 3 percent of the population is, however, disputed by scholars of Japanese culture who say that an estimated 80 percent (if not more) practice Shintoism in their daily lives alongside Buddhism and sometimes even Christianity. They attribute the low number to the fact that many do not perceive Shinto as fitting into the category of religion. Shinto as a non-religion has been written about by many Japanese intellectuals, dating back to the 1800's, when the Euro-American concept of religion was first popularised in Japan.
'I haven't penetrated this thing called Shinto completely yet, but what I can say for sure is that it is not a so-called religion [shukyo].' – Shimaji Mokurai, 1872[3]
But while it is true that a majority of people in Japan see themselves as Shinto and non-religious at the same time, only a few actually reject the value of religion or are atheists. In fact, among those that say they are non-religious, about 75 percent feel that a religious attitude is important.[4] Because Japanese people, at large, do not operate with the category of 'Religion,' many Westerners assume incorrectly that they are atheist. In fact, religion plays a bigger role among the Japanese people than it appears to the cursory observer.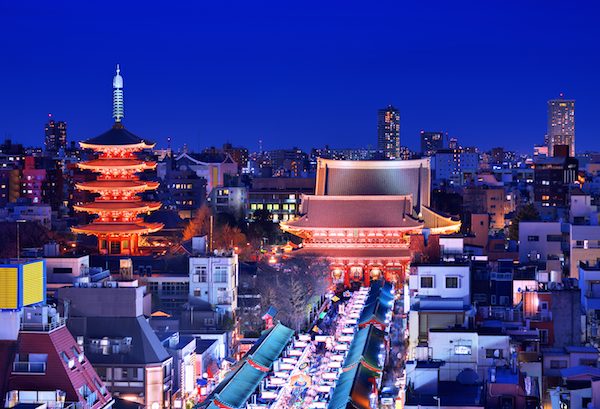 "The dominant 'religious' culture in Japan is 'paganism' (Shinto) which as a world historical phenomenon predates the idea of 'religion,' as we think of it today. The nature of pagans is not that they refuse to believe in something but rather that they believe in everything," Doak said.
'Shinto/paganism as a natural orientation to the divine in everyday life permeates Japanese life to a great degree,' Doak said. 'Even before eating, every Japanese will (often putting his hands together) say 'itadakimasu', which literally means 'I receive', but which is better translated as 'I receive this food from the divine with gratitude.''
While Shintoism is as old as Japanese culture, Buddhism was imported from China and Korea in the 6th century, and spread rapidly throughout the country. The Buddhism brought to Japan was Mahayana – the broader communion, together with its many sided cults and philosophical systems. The Japanese, who were prone to neutralise extremes and extravagances, quickly adapted the various phases of Buddhism to meet their needs. What resulted was a very distinct branch of Buddhism that differed from any of the continental types.[5]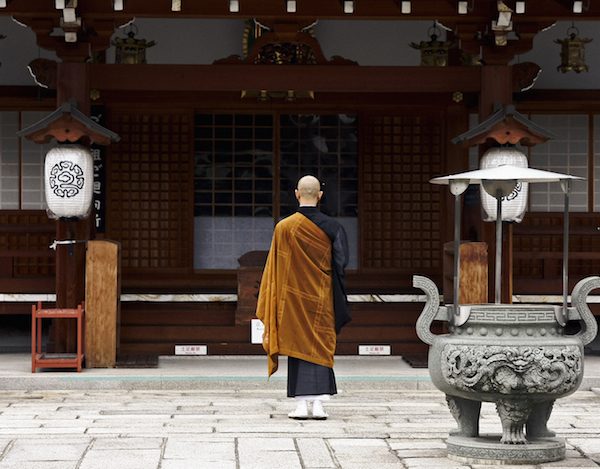 Today, 71.4 percent of the population is affiliated in some way with Buddhism.[6]
The religion has had a major influence over the centuries on Japanese culture and its development and also continues to be of major influence in today's Japanese society. St. Francis Xavier, SJ, who landed in Kagoshima City, introduced Christianity, practiced by 3 percent of the population, to Japan in 1549.[7]
With the arrival of Xavier and Jesuit missionaries, thousands of Japanese converted to Roman Catholicism. However, with the arrival of the Protestants in 1600 and when the religious wars of the post-reformation period reached Japan its ruler, Shogun Tokugawa expelled the Catholics and severely restricted Protestants to non-religious activities. Japanese Christians and the few foreign Catholics were mercilessly persecuted and martyred. It was not until 1873 that Western powers were able to wield enough influence to prevent Japan from persecuting on the basis of religion.
'In 1889 religious freedom was guaranteed by Article 28 of the Meiji Constitution…and many influential Japanese became Christian,' Doak said. 'Religious freedom has remained the law in Japan since then, even at the height of World War II.'
Of the other religions represented in Japan, Islam takes the lead with an estimated 70,000 – 100,000 followers. There are approximately 15,000 Baha'i, and smaller numbers of Hindus, Sikhs and Jews. While there are isolated records of Islam in Japan in 1853, one of the first properly recorded contacts was of a Portuguese ship sailing from Malacca to Japan in 1555, which brought with it an Arab passenger who preached Islam upon his arrival.[8] In the late 1870's, the life of the Prophet Muhammadsa was translated into Japanese helping Islam spread and reach Japanese people.
However, despite these earlier contacts and others over the years, the Muslim population in Japan was relatively small until the mid-1980s, which brought a large influx of foreign Muslim workers. A 2008 report by the Asia Policy shows that 80 to 90 percent of the Muslim population in Japan is foreign-born; with Indonesians, Pakistanis, Bangladeshis and Iranians making up the largest subgroups.[9] It is estimated, though, that there are anywhere from 6,000 to 10,000 ethnic Japanese Muslims. Japanese society poses unique challenges for Muslim minorities, whether they are foreign-born or ethnic Japanese. Like Christianity, Islam is not compatible with syncretism that is prevalent among a majority of its members.[10]
But while the significant growth of the Muslim population has been a relatively new phenomenon, it is interesting to note that according to Sheikh Muhammad Ahmad Mazhar, author of an article published in the June, 1964, edition of The Review of Religions, the main Japanese language is 'clearly traceable to Arabic, with precision and certainty.'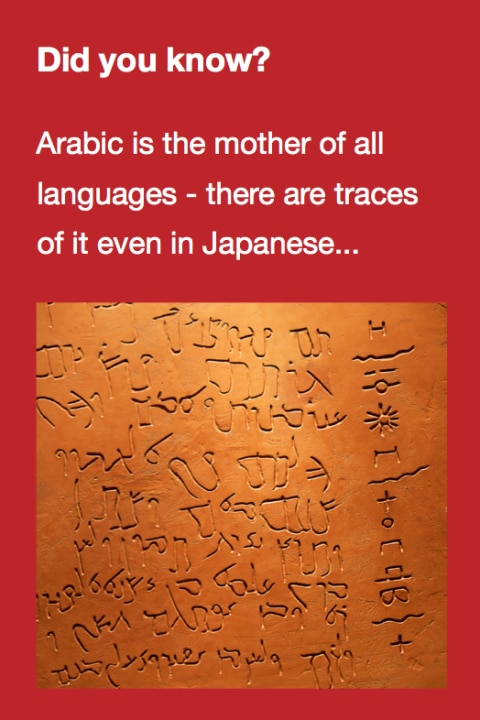 In the article titled 'Arabic is the Mother of All Languages – Japanese Traced to Arabic', Mazhar writes that he has traced about 2,000 Japanese words to Arabic and out of these 600 are connected with Qur'anic roots.[11]
Japan's connection with Islam is deeply rooted in its history and as the number of Muslims in the country increases, Muslim leaders hope that Islam's influence on Japanese society will also grow. The world-wide head of the Ahmadiyya Muslim Community and fifth Khalifah, Hazrat Mirza Masroor Ahmadaba, in a recent visit to Japan, said that the Japanese people 'have great civility as well human sympathy and already abide by the Islamic teachings of doing good in return for good.' He also expressed his desire that the beauty of Islam be shown to the Japanese people.
'If we can offer them anything it is connecting them to God,' his Holiness said. 'We can tell them how God listens to prayers. We can tell them how God talks to his people.'[12]
1. Toshimaro Ama, Why are the Japanese Non-Religious (Lanham: University Press of America, Inc., 2005), vii.
2. Ian Reader and George Tanabe, Practically Religious (Honolulu: University of Hawaii Press, 1998), 5.
3. Jason Josephson, The Invention of Religion in Japan (Chicago: The Chicago University Press, 2012), 92.
4. Toshimaro Ama, Why are the Japanese Non-Religious (Lanham, Maryland: University Press of America, Inc., 2005), 1.
5. Masaharu Anesaki, History of Japanese Religion: With Special Reference to the Social and Moral Life of the Nation, (London: Kegan Paul, Trench, Trubner & Co., Ltd., 1930), 8.
6. "The World Factbook", Central Intelligence Agency, 2013.
7. Kevin Doak, Xavier's Legacies: Catholicism in Modern Japanese Culture (Vancouver: UBC Press, 2011), 1.
8. Donald Lach, Asia in the Making of Europe, Vol I: The Century of Discovery, Book 2 (Chicago: The University of Chicago Press, 1965), 518.
9. Emile Nakhleh, Keiko Sakurai, Michael Penn, "Islam in Japan: A Cause for Concern?," The National Bureau of Asian Research, 71, January 2008.
10. Emile Nakhleh, Keiko Sakurai, Michael Penn, "Islam in Japan: A Cause for Concern?," The National Bureau of Asian Research, 92, January 2008.
11. Sheikh Mazhar, "Arabic is the Mother of All Languages – Japanese Traced to Arabic," The Review of Religions, June 1964.
12. "Friday Sermon: Be a man of God," The Ahmadiyya Muslim Community, November 8, 2013.