April 2018 saw more than 25,000 publishing professionals gather in London Olympia to meet and discuss innovative ways on how to make advancements in the field of publishing. Amidst hundreds of well-known publishing houses, a unique piece of history unfolded; The Al-Qalam Project – the only Qur'an writing project of its kind – graced the London Book Fair at an exhibition entitled The Qur'an in the 21st Century.
Hosted by The Review of Religions, The Qur'an in the 21st Century exhibition was sponsored and supported fully by the Ahmadiyya Muslim Association UK. This featured precious full manuscripts of the Holy Qur'an dating back to the Ottoman era and a stand where visitors had a chance to have their name written in beautiful Arabic calligraphy, and all that free of charge!
The key feature at The Qur'an in the 21st Century Exhibition was The Al-Qalam Project. Founded by Razwan Baig – one of the foremost private collectors of Islamic art in the UK – and officially launched by the worldwide Head of the Ahmadiyya Muslim Community, His Holiness Hazrat Mirza Masroor Ahmadaba in 2016. The Al-Qalam Project is the first of its kind in which each participant contributes a single verse and thus the complete text of the Holy Qur'an will be entirely handwritten by members of the public; irrespective of their race, religion or gender. This truly unique concept brings together people from all walks of life to show that the Qur'an was not just a book for the 7th century, but it is just as relevant today, in the 21st Century.
Reflections London Book Fair 2018
During the Jalsa Salana (Annual Convention) Germany 2017, His Holiness, Hazrat Mirza Masroor Ahmadaba, Worldwide Head of the Ahmadiyya Muslim Community, said to the National President of the Ahmadiyya Muslim Community Germany that the Holy Qur'an is for all peoples and religions and not just Muslims, and therefore anyone could contribute to the Al-Qalam project that was taking place at the convention. This underlying vision of His Holiness was the inspiration behind bringing the Al-Qalam project to the London Book Fair 2018. We wanted to give non-Muslims the opportunity to take part in this blessed Al-Qalam project.
Razwan Baig,
Founder of The Al-Qalam Project
…………………………………………………….
It's wonderful, very creative scripts and quite enjoyable to do it. I'm also a graphic designer so I can appreciate Arabic calligraphy. I think its such a positive thing and such a good idea and I look forward to seeing the final results.
Osman Savas,
Turkey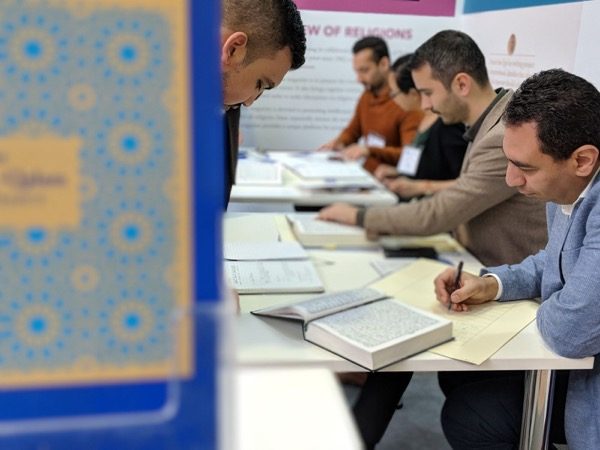 The experience was very spiritual, writing a verse out of a very special book. It was very strange to write backwards; I wanted to write the other way. I learnt earlier on that there were more than 6000 verses and to be part of this project in which 6000 people were writing a verse each was extraordinary.
Helena Prochazka,
Australia
…………………………………………………….
It felt like a really spiritual thing, because it's a very sacred text and it's not something I've done before and I don't want to mess it up when I'm doing it. Obviously it's really important to a lot of people. Then telling me the translation it was really nice to know what I was writing and made me feel a bit more connected to it. It [Islam] is a religion that I don't know much about and it's something I would like to learn more about because it is very ancient with a lot of traditions and I think it is misrepresented a lot.
Lucy Knowles,
United Kingdom
It is a surreal experience. I am not sure why, but the hairs on my arm stood on end and for myself, writing a line from the Qur'an has enhanced my own faith, because those are the words of Allah, and I have written them. It's a surreal experience and very difficult to explain as it's a personal thing…I am not a Muslim, I am a Hindu, but I believe that by allowing me as a Hindu to write a line from the Qur'an, in Arabic, shows there is interfaith tolerance. Islam, as far as I know from my own understanding, preaches interfaith tolerance because I think the Prophet Muhammadsa said that 'no Arab has an advantage over a non-Arab nor does a non-Arab have advantage over an Arab.'
Manichand Beharilal,
South Africa
…………………………………………………….
I feel very very happy and proud because it [Arabic] is a very beautiful language and I respect the Qur'an, which is a wonderful and beautiful book and thank you very much for this kind opportunity.
Virginie Devoucoux,
Spain