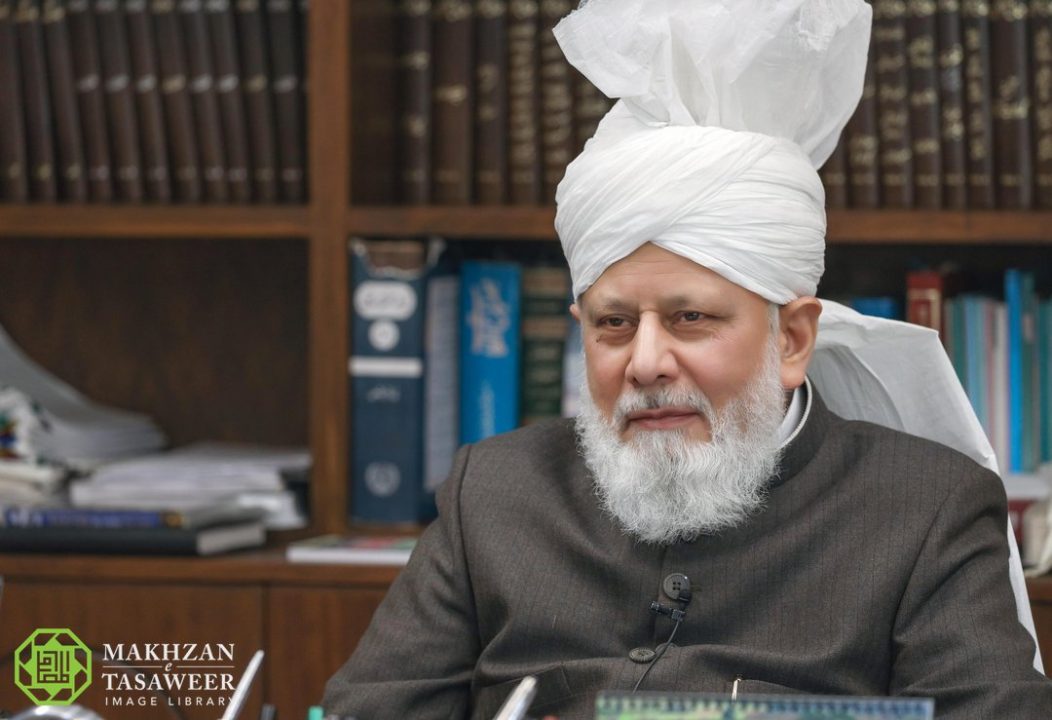 His Holiness, Hazrat Mirza Masroor Ahmad (aba) is a beaming beacon of Divine guidance and support. His Holiness (aba) represents the highest level of a connection with God in today's world and thus he is the spiritual leader for tens of millions across the world, and champions the message of fulfilling the rights owed to God, and fulfilling the duties we each owe to our fellow human beings. Over the course of his Friday Sermons, addresses on various occasions, meetings with different organizations and children's classes, His Holiness (aba) imparts invaluable knowledge and insight on a remarkably vast array of topics.
The Review of Religions is honoured to present some of these 'Rays of Wisdom' from His Holiness (aba) taken from various different sources, for the benefit of its readers.
Contents
Can Muslim Women Travel to Perform the Pilgrimage in Makkah Without a Male Relative?
How Can We Purify Our Hearts and Strengthen Our Faith?
Why Are Nations Which Don't Believe in God Still Successful?
Is There a Commonality Amongst All Prophets?
The Responsibilities of Ahmadis in Relation to Khilafat
Can Muslim Women Travel to Perform the Pilgrimage in Makkah Without a Male Relative?
Hajj is one of the five fundamental pillars of Islam. It is a pilgrimage to the holy city of Makkah, the birthplace of Islam, which is obligatory upon every Muslim who is able to undertake this journey. This pilgrimage serves as a means of expression of love for God Almighty, and increasing one's connection with Him. As it stands currently, Muslim women who wish to undertake this journey to Makkah must be accompanied by at least one male relative. Someone asked His Holiness (aba) if it would be possible for women to travel to Makkah on their own in order to undertake the pilgrimage.
His Holiness (aba) replied:
'[In earlier times] Muslims used to travel on horses or often on camels through the desert and various issues would arise along the way due to which they would have to set up camp. If there were no male relatives [accompanying the women] during the journey, then problems would arise in a caravan comprising of men; there would be potential for various issues to arise without anyone there to tend to them and so many other things can happen. First of all, today women can embark [on their journey] from here and can arrive in 6-7 hours. Secondly, the Holy Prophet (sa) said that a time would come when peace would prevail, at which time a woman would be able to travel alone from Madinah to Hadhramaut, even beyond Syria, and she would have nothing to fear except God. If a woman travelling alone was so forbidden, then the Holy Prophet (sa) wouldn't have given this example. The purpose for giving this example was to say that if there is peace, women may travel [alone].' [1]
How Can We Purify Our Hearts and Strengthen Our Faith?
Muslims are taught on countless occasions, that the ultimate key to success in life, the ultimate goal for every single human being should be to attain the pleasure and nearness of God. There are various ways and means to endeavour on this quest, but primarily, it requires one to begin with purifying themselves, and become strong and firm in faith. Of course, living in today's ultra-materialistic and morally declining world, this can seem at times like an extremely difficult task. Once, His Holiness (aba) was asked about the best way of purifying one's heart and becoming firm in faith.
His Holiness (aba) replied:
'The best way is to pray to Allah Almighty, that Allah Almighty purifies your heart. This is why Allah Almighty has asked us to – and even He has shown so many examples in the Holy Qur'an and given us the prayers in the Holy Qur'an – that you should say, do istighfar [prayer for seeking forgiveness from Allah]. Istighfar is the best way to purify your heart. Istighfar is the best way to free you from your previous sins and to give you the power to stop committing any sin again. So, this is the best way. And then also, Allah Almighty has asked a true Muslim to offer the five daily prayers. So if we are fervently praying in our five daily prayers and observing our prayers in the best way and with full concentration, then we can see that there is a big change in our life. So, the best way is to offer five daily prayers, seek Allah's guidance, Allah's help to purify your heart, and do istighfar and do durood sharif [prayer for sending salutations upon the Holy Prophet (sa)] as well, as much as you can. That will also help you to purify your heart and to increase you in your faith and belief.' [2]
Why Are Nations Which Don't Believe in God Still Successful?
For people of faith, the concept of success is often linked to their belief in God. But what about those in this world who do not believe in God? Upon taking a glance at what may be considered success by worldly standards i.e. wealth, fame etc., we find that even those who do not believe in God are able to find success. For Muslims who believe to have the ultimate and complete teaching, it may be peculiar to see that nations which seemingly do not hold a belief in God are better off than Muslim nations. Once, a person asked His Holiness (aba) why it was that nations which do not believe in God seem to be living in comfort, while in Muslim countries, some struggle to obtain even the most basic necessitities of life.
His Holiness (aba) replied:
'Do Christians reside only in America and Europe? In fact, they also reside in South America; in Latin America and Central America. A vast majority of people in the whole continent of Africa are Christian. Similarly, there are some small islands in Indonesia which are occupied by Christians. Are they also just as developed as the Western world and America? So the question is not of being Christian or Muslim, rather the question is, how are such nations successful? There is a law of nature and a law of Shari`ah [law of faith]. The Shari`ahruns according to religion while the law of nature runs according to the rule that one is rewarded according to their efforts. If, being a Muslim, you make no effort, thinking that simply on account of being a Muslim God will grant you success then you cannot succeed. So firstly, these nations realised they must strive and make efforts. Secondly, Allah Almighty has already stated that Christian nations would gain worldly success. Read Surah Al-Kahf and you will find this mentioned there. It is also stated in Hadith [sayings of the Holy Prophet (sa)] regarding the Dajjal [Antichrist] that it will be blind in the right eye but its left eye will be open. The left eye represents worldliness, and thus they are blind towards religion. But a time will come when they begin to decline, and the signs of this decline have begun to show. There is an economic crisis coming in America. It is a principle of economics that the graph rises before reaching a stage of diminishing returns and the graph begins to fall; this is a natural law of the world. In his commentary of Surah Al Anbiya, the Second Caliph (ra) has clearly written that eventually they will start to decline, and similarly, the Jewish faith will see the same decline. So this worldly success you see is according to a law and according to what Allah Almighty foretold. We have the prophecies of the Holy Prophet (sa) who stated that this would happen, albeit it will not be permanent. In the end, those Muslims who accept the true Islam and strive at the same time will be successful. Being an Ahmadi alone is not enough; instead if alongside being an Ahmadi you make efforts as well, then you will achieve worldly success – and we are seeing this happen, by the grace of Allah. The world's Muslims have a literacy rate of 40%-50%, while Ahmadis are at 99%. Then, the concept presented by Islam is that Allah Almighty has never stated that worldly success is our life's purpose. Instead, He has always drawn our attention towards the Hereafter. He taught us to pray: "Our Lord, grant us good in this world as well as good in the world to come and protect us from the torment of the fire."[3],[4]
Is There a Commonality Amongst All Prophets?
According to Islam, there have been 124,000 prophets sent by God to this world. Part of the Islamic faith and the basic belief system of a Muslim is to believe in the truth of all prophets. These prophets of course were sent to different peoples at different times, yet in light of the fact that Muslims are enjoined to believe in all prophets, one may wonder whether there was any commonality among them. This question was once posed to His Holiness (aba), as to whether there is any commonality among the prophets.
His Holiness (aba) replied:
'Common attribute of all the prophets is they always said that worship Allah. And they were the true follower of Allah Almighty, and they tried to maintain the unity of Allah. Allah of them said Allah is All-Powerful and Omnipotent. That is the common thing which all the prophets said, and even this was said by the Promised Messiah (as).' [5]
The Responsibilities of Ahmadis in Relation to Khilafat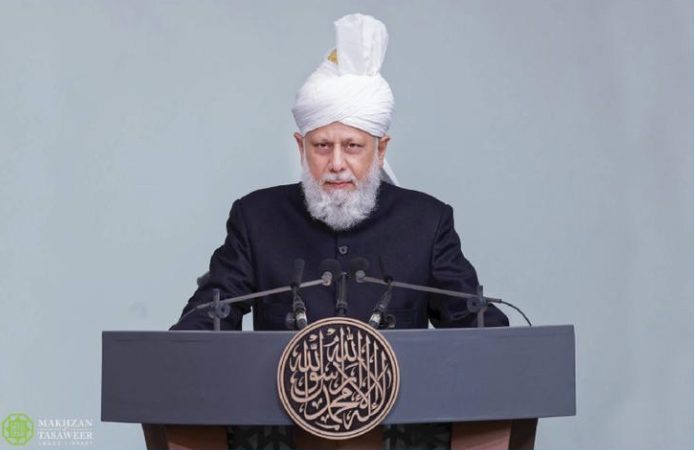 Throughout history, we find that after the demise of a true prophet, there is a system of successorship. The primary responsibility of a prophet is to complete and perfect the guidance, while the responsibility of the successors to that prophet is to further his mission and complete the spread of that message. This system of successorship is, in fact, a promise made by God to the believers, as God Almighty states: 'Allah has promised to those among you who believe and do good works that He will surely, make them Successors in the earth, as He made Successors from among those who were before them; and that He will, surely establish for them their religion which He has chosen for them; and that He will, surely give them in exchange security and peace after their fear; They will worship Me, and they will not associate anything with Me. Then whoso is ungrateful after that, they will be the rebellious. And observe Prayer and give the Zakah and obey the Messenger, that you may be shown mercy.' [6] It is in accordance with this promise of God, that after the demise of the Promised Messiah (as), according to divine decree, the system of successorship known as Khilafat-e-Ahmadiyya, or the Ahmadiyya Caliphate was established. As the second verse constitutes, this bounty from God which serves as a guiding light for all believers comes with certain responsibilities. After reciting the above verses, His Holiness (aba) expounded upon these responsibilities when he said:
'Allah the Almighty has greatly blessed us by enabling us to accept the one sent by Allah the Almighty in this era, who was sent to inform us about the true teachings of Islam; and then after him, we pledged allegiance to Khilafat so that we may implement the teachings brought to us by the Promised Messiah (as) and spread them throughout the world. Hence, our relationship with Khilafat-e-Ahmadiyya places a great responsibility upon every Ahmadi. It is only when we fulfil this responsibility that we will be able to do justice to this blessing which has been bestowed upon us by Allah the Almighty.
In these verses which I recited, the promise made by Allah the Almighty regarding the establishment [of faith] and turning fear into peace, is conditional upon us becoming those who have firm faith, who do good works, pay due regard to worship and do not associate any partners with Allah; one should abstain from every aspect of "shirk" [associating partners with God].
In order to achieve these things, worship of Allah the Almighty and Salat are absolutely necessary, therefore one must observe Salat in the manner taught by Allah the Almighty.
Furthermore, it is vital to spend in the way of Allah. Thus, one ought to spend in the way of Allah.
Obedience to the Holy Prophet (sa) is of paramount importance, therefore one must obey his every commandment.
It is only when we are mindful of these aspects, and strive to live our lives accordingly, and when we truly strive to fulfil our oath of giving precedence to faith over worldly affairs that we will truly be able to partake of the bounties promised by Allah the Almighty and will truly benefit from the bounty of Khilafat.' [7]
---
ENDNOTES
[1] Meeting with Lajna Office-Bearers from Hamburg, Germany 6 January 2019
[2] Meeting with Journalists from The Gambia 22 May 2021
[3] The Holy Qur'an 2:202
[4] Meeting with Khuddam from Germany, 8th December 2018
[5] Meeting with Journalists from The Gambia 22 May 2021
[6] The Holy Qur'an 24:56-57
[7] Friday Sermon 28th May 2021