Mansoor Dahri, UK
Members of the Ahmadiyya Muslim Community in Britain will be celebrating their annual religious convention (known as Jalsa Salana) on the site of Oakland Farm (since renamed Hadeeqatul Mahdi i.e. 'The Messiah's Garden') in Alton, Hampshire. The UK is the Headquarters of the Worldwide Ahmadiyya Muslim Community and the permanent residence of His Holiness Hazrat Mirza Masroor Ahmad (aba) who is the Caliph and Worldwide Leader of the Community. This means that the annual convention held in Britain carries special significance for the world's Ahmadi Muslims and is unlike annual conventions held by Ahmadis in other nations. For instance, the UK's annual convention is much more international in scope and draws visitors from every corner of the globe. This year marks the 57th anniversary of the convention in the UK.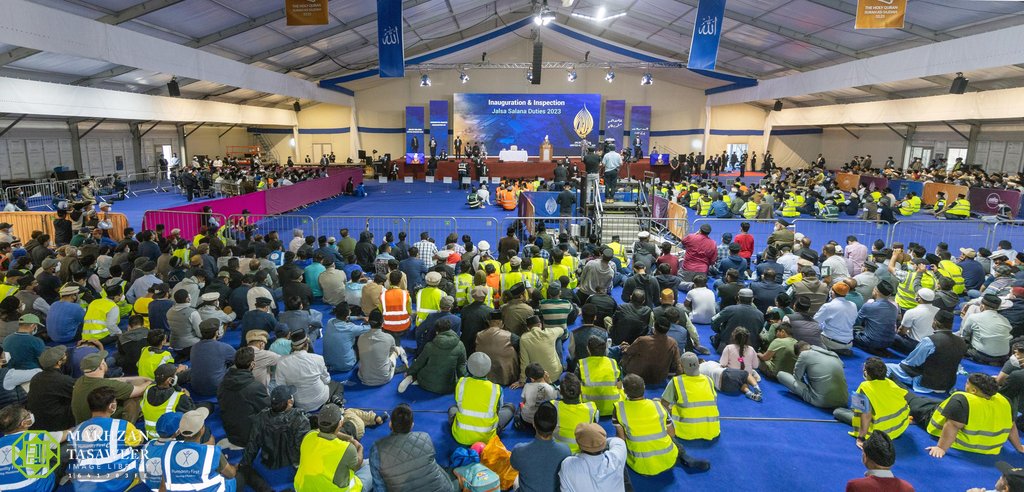 In pre-lockdown years, the UK convention routinely drew an attendance of approximately 40,000 people every year. From 2020 to 2022, the convention was heavily restricted due to the COVID-19 pandemic and attendance was primarily limited to preselected local residents. By the Grace of Allah the Almighty, this year's annual convention will be open to everyone, including international guests. The event will last for three days as usual and will take place from Friday 28th to Sunday 30th July 2023. Over 50,000 visitors are expected to attend this year, which is higher than average. The event is free of charge and members of all faiths and none are perfectly welcome to attend. Food will be provided to visitors.

An inspection of the site was carried out last week on Sunday 23rd July by His Holiness, who toured various onsite facilities before giving a brief speech. His Holiness will be especially busy during the convention and tens of millions of Ahmadi Muslims around the world will look forward to watching the televised sermons that he will be delivering on all three days of the convention, in addition to those who are fortunate enough to have the experience in person at the event itself. His Holiness is a man of peace and has been warning world leaders and politicians for more than a decade for the need for absolute justice in international politics in order to prevent the outbreak of World War III.
As of 2023, humanity stands on the brink of an absolute precipice. Will humanity heed the warning before it's too late? We can only hope so. I hope and pray that all attendees will learn something new and valuable from this year's convention and from the wise words of His Holiness. May the state of the world improve and may this year's annual convention run smoothly and be a source of blessings for everyone involved.
---
About the Author: Mansoor Dahri is an online editor for The Review of Religions. He graduated from UCL in BA Ancient Languages.