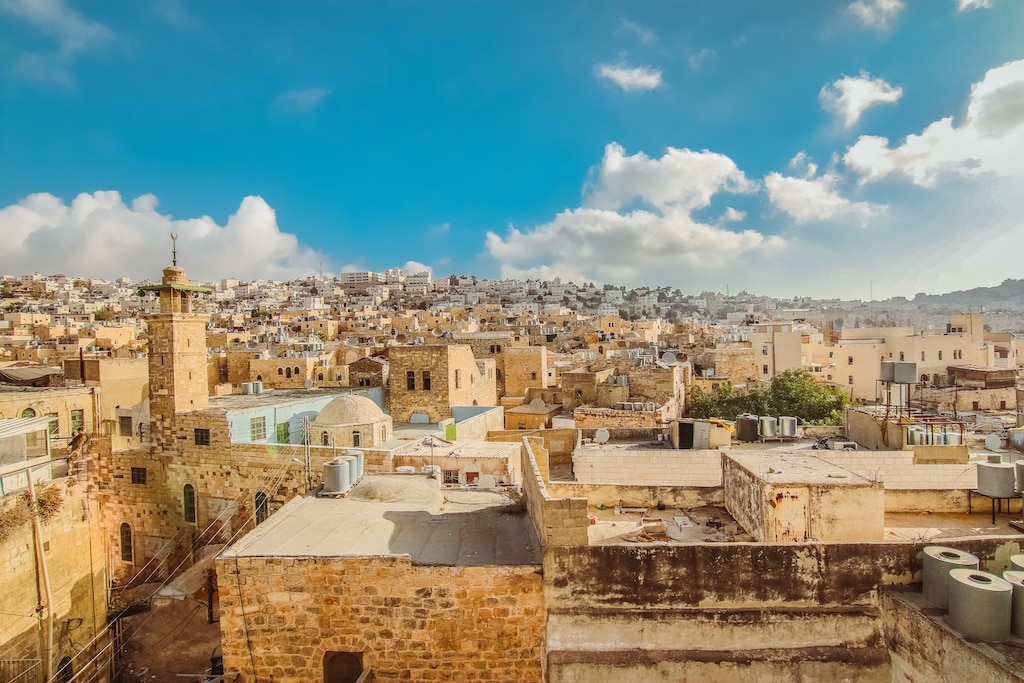 His Holiness Hazrat Mirza Masroor Ahmad (aba), Fifth Caliph & Worldwide Head of the Ahmadiyya Muslim Community
The Review of Religions takes full responsibility for any errors in translation.

In the spring of 2021, the Israeli-Palestinian conflict captured headlines again as Palestinians faced forced evictions from the city of Sheikh Jarrah. In his Eid sermon of May 14, 2021, His Holiness Hazrat Mirza Masroor Ahmad (aba), the Fifth Caliph and Worldwide Head of the Ahmadiyya Muslim Community, addressed the plight of the Palestinians and exhorted the world to act with justice.
Finally I would like to draw attention towards prayers. Firstly, pray for the people of Palestine who are suffering from huge injustices these days. They have been required to obtain permits to visit their own areas and Masjid Al-Aqsa, but these permits are not given to them and they are prevented from going. Those who went there to offer prayers were forcibly prevented from doing so and were killed and persecuted by government officials. They became the targets of oppression. Likewise, they are being forcefully removed from Sheikh Jarrah, which is a small neighbourhood of theirs, even though their own homes are there. The media outlets have started to report on this quite extensively. In fact, even Israel's own newspapers and media outlets, which are acting with justice, have started to highlight these issues. The police are firing tear gas and bullets at people; in fact, they have launched airstrikes as well with the excuse that the enemy who they want to attack is hiding in those areas, when in reality they are committing cruelties and are attacking the general public. Furthermore, we learn from certain press reports that the Israeli police in certain areas are not even allowing those who have been injured to reach first-aid camps. They are even being deprived of medical aid. In any case, as I have said with regards to the injustices being carried out in Masjid Al-Aqsa, may Allah Almighty shower His mercy and grace upon the oppressed there and seize the oppressors. The State Department of the US claims to uphold justice, yet it gave no statement when nine children were killed, nor did it express any sympathy when it was nine of them; now this number will have increased.
The New York Times has also written in relation to a report from the Human Rights Watch that in Israel and occupied territories of Palestine, Israel is giving preference to Jews over Palestinians. There is no justice so naturally they would give precedence to them. The report of Amnesty International also states that Palestinians are suffering great injustices. It is written in the Israeli national newspaper Haaretz: 'Jerusalem is at boiling point. It was a senseless and provocative step to place hurdles at the Damascus Gate, which has caused anxiety amongst the residents during the blessed occasion of Ramadan, and led to the displacement of thousands of Palestinians from their homes in the Sheikh Jarrah neighbourhood.' It has also been written in Haaretz newspaper: 'Peculiar indeed is the vision of justice based on the principle whereby "what's mine is forever mine, and what's yours is also forever mine." In this way the rights of the Palestinians are being usurped.' May Allah shower His mercy. The joys of Eid have arrived as mountains of grief for them. May Allah Almighty transform their grief into happiness and grant them a life of ease, and may they have such leadership that can guide them properly.
If the Muslim nations come together and play their role, the Palestinians and Muslims oppressed in other countries could be saved from these injustices. But the Muslim Ummah is not united and the reaction of the Muslim nations is not being expressed as strongly as it should be. They give a small statement and that is it, but if they gave a unified response, it would be effective. May Allah Almighty grant understanding to the Muslim leadership and also to the Israelis so that they refrain from committing injustices. May Allah grant understanding also to the Palestinians – who, without leadership, are acting on their own – whereby if they are committing any injustices. But they are not; they are in fact the oppressed. If they use sticks, they are faced with missiles. I have said previously that there is no comparison or balance in power. Therefore, there is a great need for prayers for the Palestinians. May Allah Almighty improve their conditions and grant them the means to their freedom. And whatever remaining land which they currently have based on the initial agreements remain with them and they honour those agreements.
Likewise, pray also for all the Ahmadi Muslims who are being oppressed and suffering injustices in different parts of the world; whether in Pakistan, Algeria or any other country. May Allah Almighty protect them from the harm of the opponents and from the harm of the government officials if they are involved.
Pray for all the needy people in the world. May Allah Almighty grant them all the necessities, remove their difficulties and pray in general for an end to all the injustice in the world. May Allah Almighty remove the injustice in the world and make the people recognise God Almighty.
Pray also with regards to the epidemic which is widespread nowadays. May Allah Almighty grant us a swift deliverance from this and bring the world back to a state of peace with normal conditions. But this is only possible when the world recognises God Almighty, fulfils His rights and fulfils the rights of His servants. May Allah Almighty enable us all to do so.