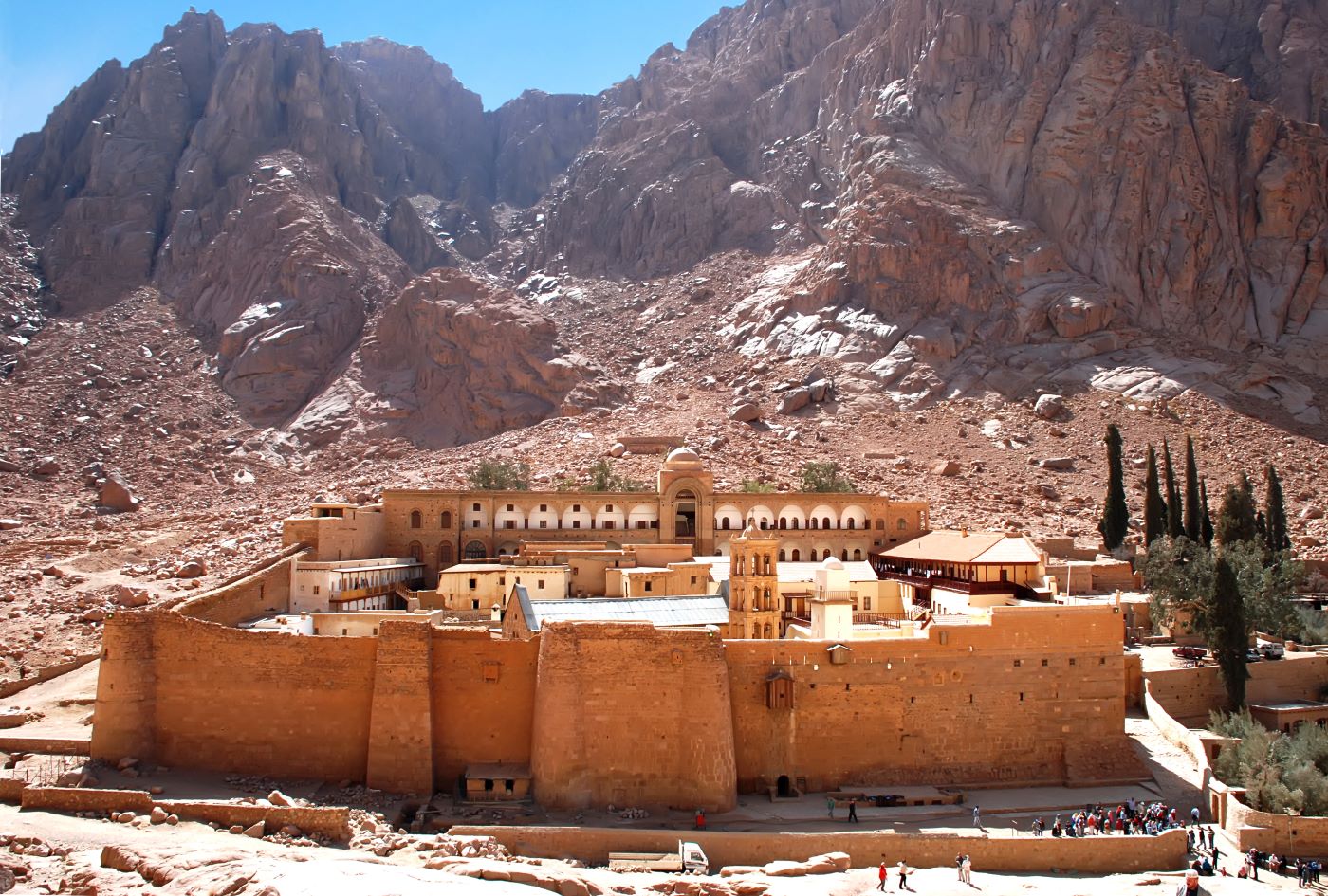 Location: Mt Sinai, Egypt
Date Opened: 565 CE
Belief: Christianity
The Monastery of St. Catherine near Mount Sinai in south-east Egypt, is one of the most significant and historic places for Orthodox Christianity. It is named after St. Catherine of Alexandria who was a 4th-century-CE convert in Alexandria, and after attracting many people to the new faith, she was martyred by the Romans at the tender age of eighteen in 305 CE.
The monastery was built in approximately 550 CE as one of the first in the world, and contains the oldest Christian library. However, there is testimony of monks at the site from 381 CE. Over time, the monastery was of interest to both Orthodox and Catholic Christians, and was also one of the sites afforded protection by the Prophet Muhammad (sa), as recorded in the Ashtiname.
The most famous ancient book discovered in the library was the Codex Sinaiticus, which at its discovery in the 19th century, was the oldest complete copy of the Bible discovered, and drew attention to differences in the Bible from that time to the versions that are commonly accepted today. These differences included a shorter ending to the Gospel of Mark, no mention of the term 'Son of God' and it also included the Epistle of Barnabas.
The Syriac Sinaiticus is a late 4th-century translation of the four canonical gospels of the Bible in the Syriac language. The library contains many other early manuscripts in many languages including Aramaic, Syriac, Hebrew, Ge'ez and Coptic. Many famous manuscripts from the monastery are now housed in museums in London, St. Petersburg and Leipzig.
The site also includes the Chapel of the Burning Bush, harking back to the incident that Moses (as) experienced, and this was built in the 4th century at the direction of the mother of Constantine the Great.
For over a thousand years, Christian pilgrims have visited the site, which grew in prominence during the Crusades. The Monastery is administered by the Greek Orthodox Church based in Jerusalem and is still a treasure of Christian history.
---
Sources:
Navida Shahid, "Codex Sinaiticus," The Review of Religions, August 1994, Vol.89, No.8.
Basit Ahmad, 'Early Christian History – Textual Studies," The Review of Religions, February 1994, Vol. 89, No.2.
Syed Mashhood Ahmad, "The Corruption of the Text of the New Testament," The Review of Religions, June 2009, Vol.104, No.6.
T. C. Mitchell, The Bible in the British Museum (London, UK: The British Museum Press, 1988).