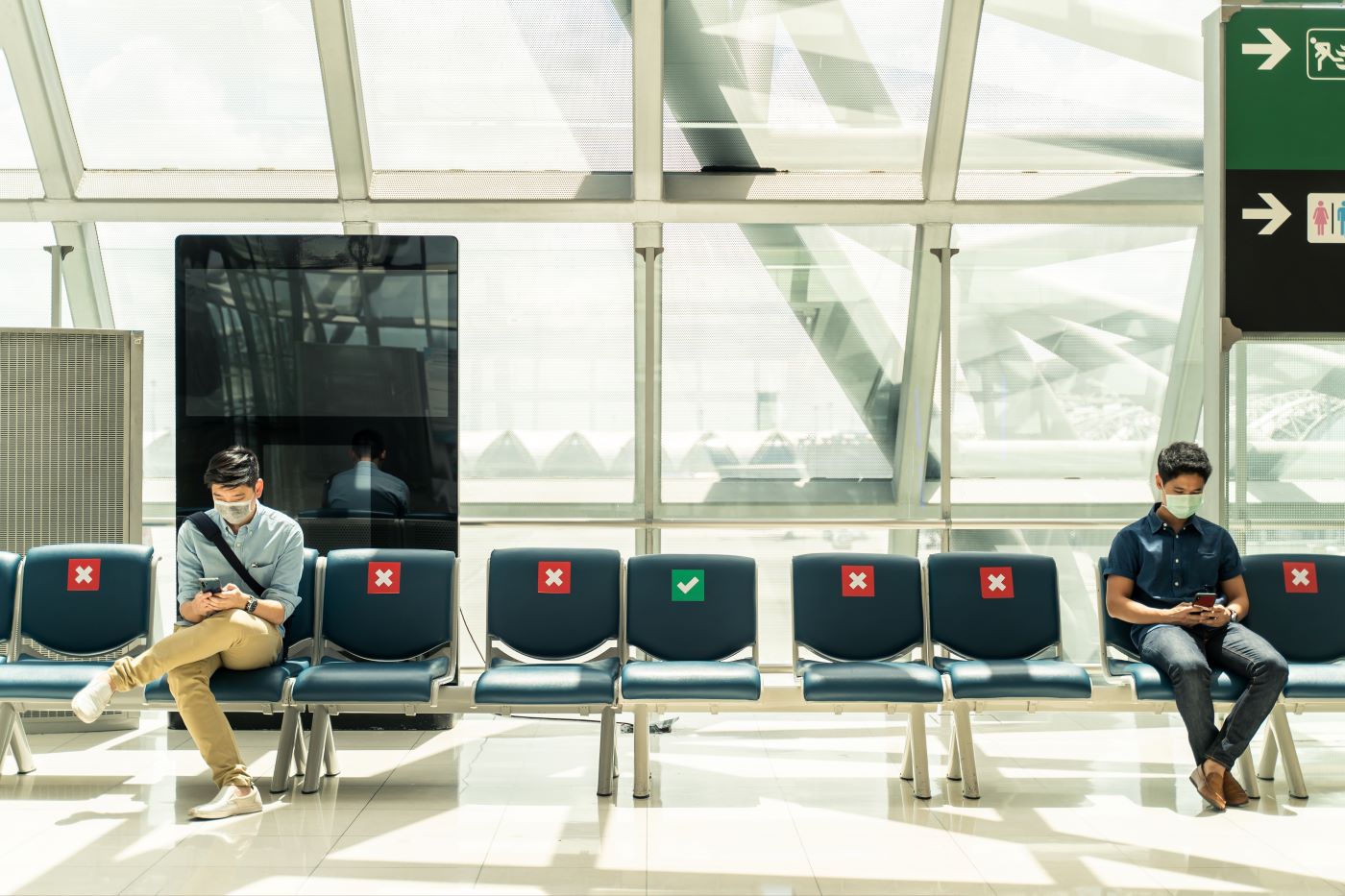 Syed Amer Safir, London, UK
We have become used to hearing about a 'new normal' for our routines during the COVID pandemic: Zoom-only meetings, working from home, zero or guarded physical contact, delays in obtaining everyday goods, tentative travel plans and routine lateral flow testing. Despite the easing of restrictions in some countries, the pandemic has continued for long enough, and has sufficiently altered our lifestyles to the extent that many have accepted that the current situation will simply continue for the foreseeable future. Owing to the positive impact of the vaccines, just as we start to see a glimmer of hope of exiting this 'new normal,' to return to life as we once knew it, we hear reports of a new strain breaking out, and new mutations to the virus that could potentially evade the vaccines and lead to a return to lockdowns. This 'new normal' has led to many declaring that they will work from home permanently and adopt other pandemic-adopted habits for the long-term: 'if you can't beat it, adapt to it forever and accept this new lifestyle as "normal"'.
However, a growing number of people are espousing a different approach to dealing with the mentally draining reality of living through the fluctuations and uncertainty of a pandemic. And that is that we are not living through a 'new normal', but rather a 'new abnormal'. While the pandemic may have raged on for what seems like an eternity, it is still temporary and will eventually end. Zoom-only meetings cannot replace face-to-face interaction, and the exchange of pure human emotions and expressions is something that we intrinsically yearn for. This helps us to remember that not everything we are passing through is 'normal'; rather much of it is abnormal, and will change. We can adjust to some beneficial aspects of living through a pandemic, yet be optimistic of other ones eventually returning to how they were once more.
And yet, there are patent benefits that have emerged from the lockdowns which appear to be worth maintaining: more quality time with family, finding new and productive hobbies, reading more books, and exploring previously unvisited local or national areas of interest. Some prefer face-to-face appointments with their GPs, but others can now use the time it would take to travel to a clinic and wait there on other productive activities, and benefit from a remote video call from the comfort of their homes. A hybrid approach has been touted by many in which we can preserve the quality time with family at home that we have cherished during the lockdowns, without entirely getting rid of human interaction at work and elsewhere.
I recently attended an in-person national magazine conference in the heart of the City of London, the first of its kind since the pandemic began. The atmosphere at this event was energetic. People were simply joyful to see one another and talk face-to-face. Every time people began conversations with friendly chit-chat that later turned to business, it was clear that long pent-up emotions were being released. Readers may have experienced something comparable at the first in-person events they have attended. Zoom-only meetings have opened new opportunities and allowed work to continue as usual, but can human, face-to-face interaction ever be replaced by technology? Have some people reacted to these extraordinary circumstances by neglecting the reality of human nature and the feelings of human connection? How many of the habits that we have adopted during the pandemic should we maintain from now on, and which should we eschew once things finally return to 'normal'? Should we look at our current circumstance as the 'new normal', or 'new abnormal'?
A Special Feature From This January 2022 Edition
In 2021 The Review of Religions lost one of its brightest former colleagues, Syed Taalay Ahmed. A phenomenal journalist, he served as the Head of the Indexing and Tagging Team here at this magazine for around four years. This was a significant undertaking: requiring a deep study of our archive of articles since 1902 and then cataloguing and indexing them into topic categories, all while managing a team of eleven. We continue to benefit from his tremendous work – and this incredible resource – even today. Tragically, Syed Taalay was gunned down in a robbery during a trip to Ghana while filming a documentary this past August. He was only 31 years old. His passing was widely reported across international media. In his most recent role, he worked for the News department of Muslim Television Ahmadiyya International (MTA) , where he pioneered major new projects.
Today, The Review of Religions is an international media organisation with hundreds of team members worldwide across four language editions, but when Syed Taalay Ahmad worked with us, the magazine was considerably smaller in scale. We were just a small group of people working together. And so Syed Taalay was more than a work colleague; he was a close friend who maintained his friendship until his very end. I witnessed Syed Taalay create a project from scratch and build it up, with his drive and commitment, into a major enterprise. As I was looking over past emails and messages, it reminded me Syed Taalay was passionate about the betterment of The Review of Religions. He would often send me inspired proposals of how various aspects of the magazine could be improved, at a time when we operated at a much smaller scale.
In his Friday Sermon, His Holiness, Hazrat Mirza Masroor Ahmad (aba), Worldwide Head of the Ahmadiyya Muslim Community, gave an inspiring obituary on Syed Taalay Ahmed and also mentioned that:
'There are very few people who have so much devotion to their work. This immense devotion to his work was not simply because he enjoyed doing it. There are many others who thoroughly enjoy carrying out their work. His enthusiasm for his work stemmed from a passion to want to defend the religion of Islam and the Holy Prophet (sa) and thus, he wanted to spread this message to the world and convey the message of the Promised Messiah (as) to the corners of the earth. This is why he strove to be a helper of Khilafat.'
His Holiness further stated:
'Taalay possessed an extraordinary passion and desire to not only complete his work, but to do so to the highest standard, which is why he was not afraid of any dangers. It is evident from the incident of his martyrdom that he did not worry even for a moment about the dangers. The only concern he had was that he was able to fulfil the task he had come to do in the most excellent and timely manner.'
There are many ways that we as a magazine could honour the legacy of Syed Taalay. But perhaps one of the best is to continue publishing his unpublished works. Before Syed Taalay passed away, he wrote a unique, book-length article on the life of Hazrat Mirza Bashir Ahmad (ra), which he devoted much time and effort to compile. A son of Hazrat Mirza Ghulam Ahmad, the Promised Messiah (as), Hazrat Mirza Bashir Ahmad (ra) was an exemplary scholar and Syed Taalay's paternal great-grandfather. Syed Taalay used some of this material to produce a brilliant documentary that aired on MTA International called The Moon of the Prophets, which I strongly recommend our readers watch. However, all the details could not fit into one documentary and are included in this lengthy article. Syed Taalay had initially called this article 'The Middle Brother.' Still, as he had himself later named the documentary on this topic The Moon of the Prophets, we have decided to keep the same name for this article.
Hazrat Mirza Bashir Ahmad (ra) holds a special place in the hearts of anyone associated with The Review of Religions. Undoubtedly his services for Islam run far beyond any one position or role that he held. It is no exaggeration to say that he was a colossus of an individual whose legacy will be remembered for generations to come (as brilliantly illustrated in Syed Taalay's article). However, it would be an injustice to not mention here that he also served as one of the greatest editors in the history of The Review of Religions. I often read his past editorials as a source of immense inspiration (and also embarrassment in how high a status he possessed compared to us today) in the manner in which he understood the objective of the Promised Messiah (as) to launch this magazine, and his unwavering determination and deep wisdom in how he set out to implement that vision in his tenure as editor. Indeed, his magnum opus, The Life and Character of the Seal of Prophets was first serialised in The Review of Religions and proved a source of great benefit to many.
It is fitting for us to pay tribute to Hazrat Mirza Bashir Ahmad (ra) by publishing an immensely researched and detailed article on his life qualities and achievements. It is equally fitting that this article was written by a former shining star of The Review of Religions, Syed Taalay Ahmed, also the paternal great-grandson of Hazrat Mirza Bashir Ahmad (ra). We hope that our readers will derive great benefit from our unique feature, The Moon of the Prophets.
About the Author: Syed Amer Safir is the Chief Editor and Manager of The Review of Religions.