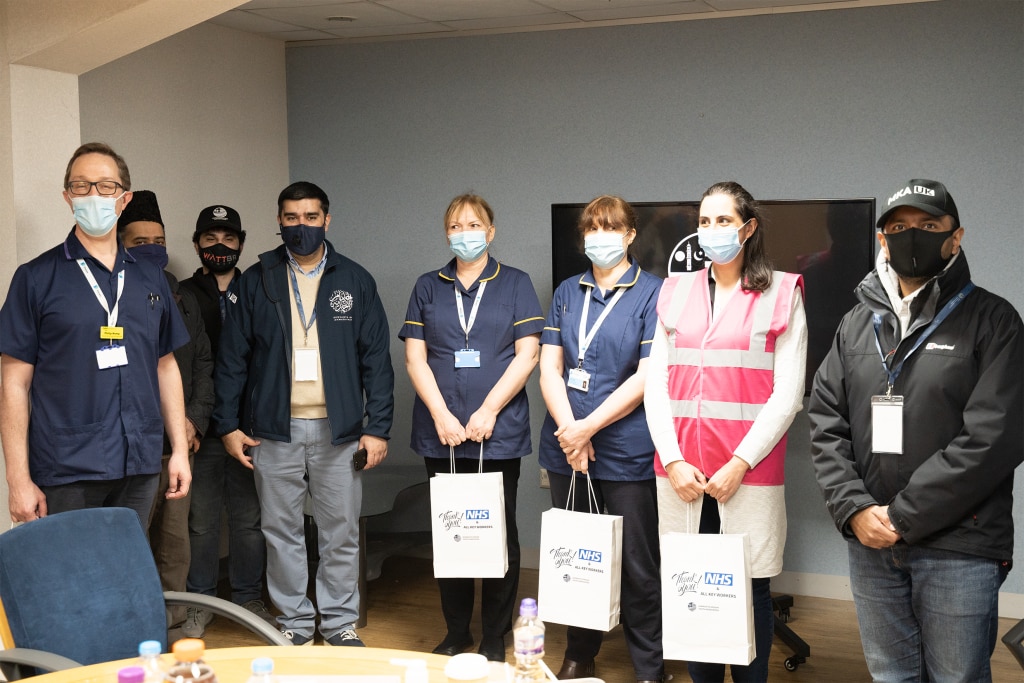 Nauman Hadi, UK
On Saturday, 3 April 2021, the Ahmadiyya Muslim Youth Association UK organised and conducted a vaccination programme at their national headquarters, Aiwan-e-Mahmood, in Farnham. This was organised in light of guidance of the Fifth Caliph and Worldwide Head of the Ahmadiyya Muslim Community, His Holiness Hazrat Mirza Masroor Ahmad (aba), for Ahmadi Muslims to take the vaccination.
Approximately 550 members of the local community received their first jab of the Oxford-AstraZeneca vaccine. The clinic was set up in just days by the volunteers of the youth association. The entire headquarters building was transformed into a pop-up clinic for the day with various stations such as sign-in, health-screening etc. being setup.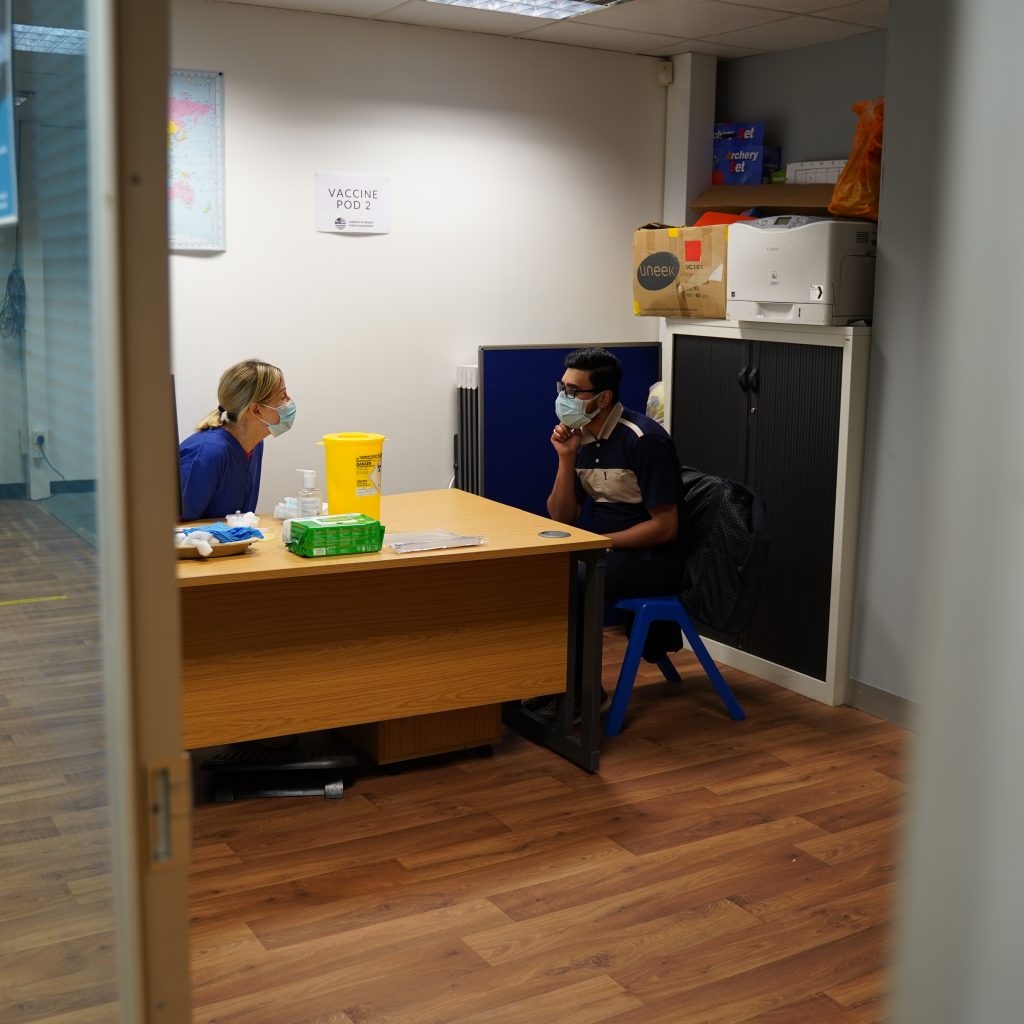 During the first part of the day local councillors for Farnham visited the pop-up clinic and toured the site. This was the fourth vaccination clinic organised by the Ahmadiyya Muslim Community UK and the first by the Ahmadiyya Muslim Youth Association UK, dispelling misconceptions about vaccine hesitancy.
Jeremy Hunt, the local Member of Parliament for South West Surrey visited the clinic in the afternoon and commented:
'This has been a tremendous example of the NHS coming together with the Ahmadi community locally, and they're going to get 600 people jabbed today. And this is the kind of thing that is going to save lives. I have always been impressed by the way the Ahmadi community has worked for the benefits of not just Ahmadis, but actually the communities that they live in, and for all sorts of things to do with welfare, housing, medical, and I think this is just another example of the very practical approach that the community takes to doing these really important things.'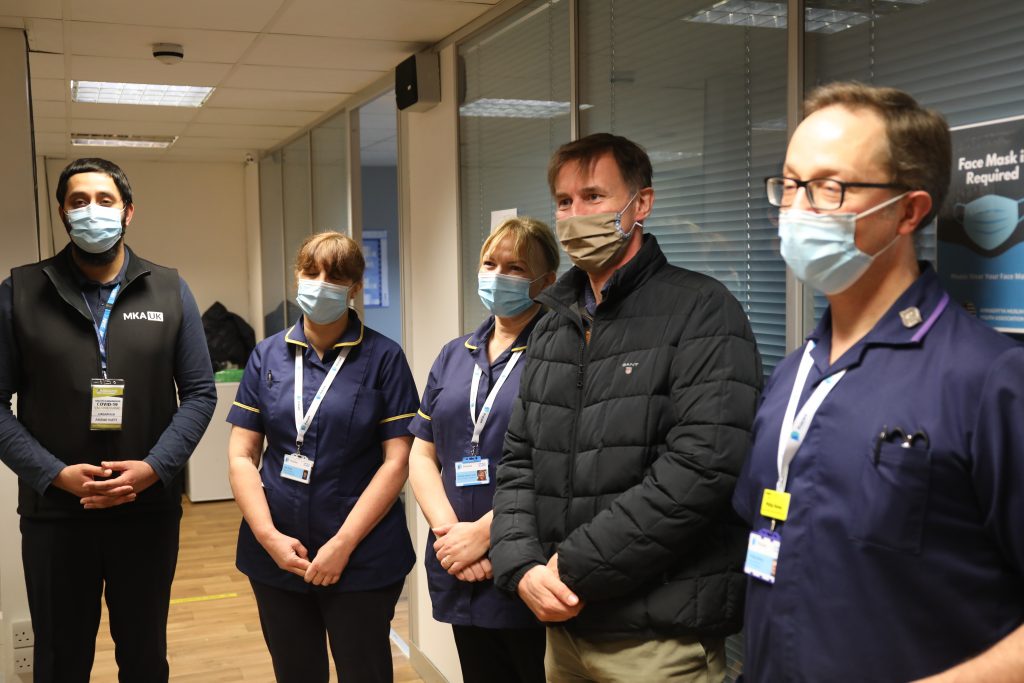 Majlis Khuddamul Ahmadiyya UK [the Ahmadiyya Youth Association] was able to vaccinate a total of 547 people, as people queued to receive the vaccine throughout the day starting at 8 am.
Johnathan Lord, Member of Parliament for Woking said:
'I'm here today to see this fantastic vaccination effort. And I really congratulate the community, particularly the youth of the community, for doing this. It's been absolutely impeccable. Everyone's keeping their social distance, but a great job of work has been done. And of course, after the vaccination, we know that everyone's going to be so much safer. So, this is a great UK success story. But in this instance, it's a great successful story for the Ahmadi community.' Recent studies have shown that BAME (Black, Asian and Minority Ethnic) people have a significantly lower than average uptake of the vaccine. This new programme of clinics hopes to reach out to local ethnic and religious communities, to encourage more people to come forward for vaccination. It is thanks to such drives that we take a step closer to ending this pandemic.
About the Author: Nauman Hadi is an Imam of the Ahmadiyya Muslim Community and serves as the Secretary of Publications for the Ahmadiyya Muslim Youth Association UK.