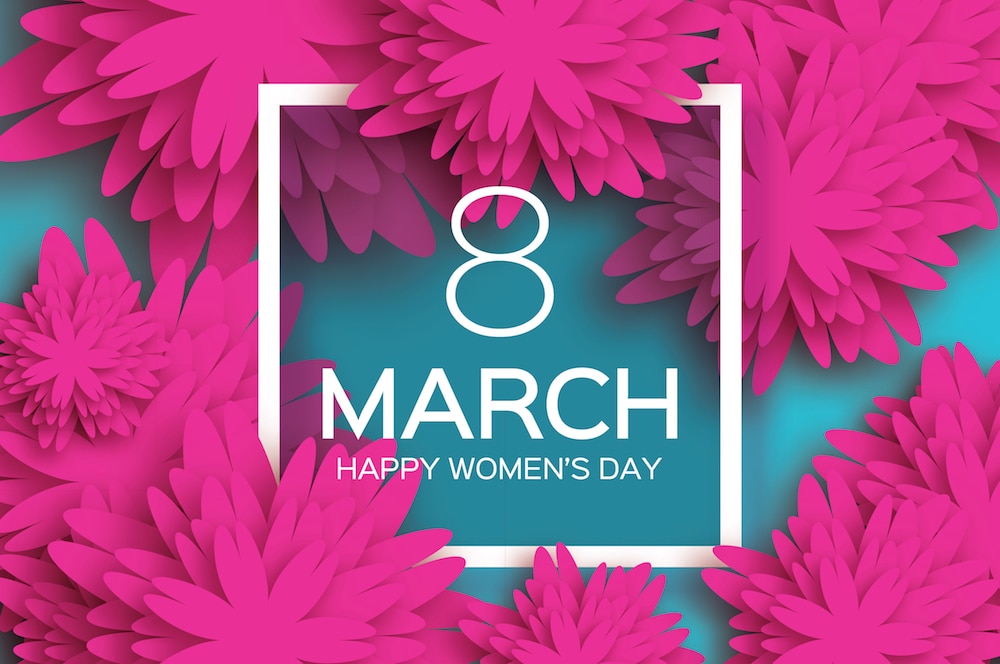 Women's Section, The Review of Religions
'Behind every great man there's a great woman' was a proverb immortalised in the English language by a Texas newspaper in 1946, when it reported on the athlete, Meryll Frost. As Frost received a trophy he said, 'Behind every great man there's a woman. While I'm not a great man, there is a great woman behind me.' He acknowledged a fundamental truth; that women are the individuals who often shape and support others in society. By doing so, women can, and indeed have changed the course of history. This has been reiterated byHis Holiness, Hazrat Mirza Masroor Ahmad (aba), the Fifth Caliph and Worldwide Head of the Ahmadiyya Muslim Community when he said,
'In the establishment and development of any nation or community, the women play a fundamental and vital role.'
Today, on 8th March, as International Women's Day is celebrated globally to mark the cultural, political and social achievements of women, The Review of Religions Women's Section asked Muslim women across continents to pay tribute to the women who have inspired them. Extraordinary women from diverse backgrounds and eras have been mentioned, some historic, others of personal significance. Yet, they all share qualities including great faith, remarkable courage, and immeasurable compassion. They demonstrate just how profound and timeless the impact of women in society can be. Undoubtedly, the influence of women will continue as bright and pervasive as the morning sun and for as long as the human species exists.
Mubarka Ahmad Rehman, LLM, Master's in Law, Doha, Qatar:

'A woman that inspires me greatly is Hazrat Umme Ammaarah (ra); one of the earliest female companions of the Holy Prophet (sa). I am in awe of her courage and bravery, her exemplary love for the Holy Prophet (sa), and the sincerest devotion to faith she exemplified throughout her life.

She took part in various battles and demonstrated incredible swordsmanship. She defended the Holy Prophet (sa) so excellently at the Battle of Uhud. When only a few Muslims remained around him, he later said about her, "At that time whenever I looked, to my right or to my left, I found Umme Ammaarah continuously fighting to defend me."

She set the highest standards of patience when her son was martyred most brutally; his body parts cut off one after another. Her steadfastness at that time was so exemplary that it prompted the Prophet (sa) to pray for her profusely. In addition, she rendered great service towards Tabligh (propagation of faith) and Tarbiyyat (moral training) in her community. What I find deeply moving and am truly grateful for is that I see examples of Hazrat Umme Ammarah's courage and steadfastness in the women of our beautiful Jama'at (Community) even today; women who hold strong to their faith under all circumstances. I see her in Ahmadi mothers of martyred children, in the converts who silently suffer the injustices of their kith and kin and yet never falter, in the devoted women who experience grave religious differences in their marriages yet stay firm upon their faith. These are the Umme Ammaarah's of today, who live and breathe her beautiful example, every day.'
Mariam Andersson Malik, Teacher, New Jersey, USA:
'There are many Muslim women who have inspired me in my life. However, I would like to mention Hazrat Amman Jan (ra) (wife of the Promised Messiah (as)). Thinking about the life of Hazrat Amman Jan (ra),she had so much wisdom in the subtleties of keeping her home full of love and peace. Her household management skills, her gracious interactions with family members and those less fortunate than her. Her complete faith in Allah and His Will, especially during times of hardship and difficulties. She inspires me to do better. When I read about Hazrat Amman Jan (ra), I think about how important women are. All the small decisions and actions we take, can create love, peace and understanding within our household and can lift others up.'
Sharah Salim, Southampton, UK:

'Growing up I had many strong and independent women who I could use as an inspiration, however, one who was a prominent figure in my life would be my mother. Ami (my mother) was married at age 17 and sent abroad. A new land, new people, and a whole new culture. From growing up in Pakistan, to a totally new place in the West. Worlds apart and with no one she knew.

The way Ami became part of the land, mixing with her neighbours, learning their language in school and even learning to drive too! At such a young age she learnt the split-word translation of the Holy Qur'an and decided to embark on this education herself, without the influence of her parents or siblings.

Other than waking up early, taking us to school, cleaning the house and preparing our daily needs, she was very attached to the Fazl Mosque and her local Jama'at (Community). She was always very busy with Jama'at work. Regularly visiting the mosque for prayers, especially Friday prayers behind Hazrat Khalifa Rabay (rh) (Fourth Caliph of the Ahmadiyya Muslim Community). During the holidays we were not allowed to travel abroad because we children would miss Jumu'ah (Friday prayers) behind Khalifa-e-waqt! (The Caliph of the time).

Each Friday after listening to the Friday Sermon, Ami would collect us from school and give us a new instruction which she had freshly picked up from the Sermon and would advise us to embed it in our daily lives. This was my fearless mother's influence on us, and we have always been so inspired by her. I've tried my best to create this environment in my own home. All in all, I think mothers work just as hard as superheroes, but do not get the same recognition as them, since it's "Mum's job". May Allah give all mothers strength and let them put their feet up once in a while!'
Nusrat Ahmad, Substitute Teacher, New Jersey, USA:
'There are many women who have been an inspiration to me, but one in particular is my grandmother, Hazrat Nawab Mubaraka Begum (ra) (daughter of the Promised Messiah (as)). I remember her vaguely in my childhood and have heard many first-hand testimonies as to what an incredible woman she was. She was a very intelligent woman and a great poetess. Hazrat Nawab Mubaraka Begum (ra) was blessed with worldly and spiritual riches around her, but her focus in life was to stay close to faith and the Jama'at (Community) that she clearly cherished above everything else. A person with a compassionate heart, her ability to connect with young and old and at the same time providing excellent guidance is dearly remembered by those around her. Her amazing advice are cherished to this day, I will quote here from one of her poems,

Be patient, so that Allah's help comes
And He shows….
When your lips are silent, He speaks up for you
When a man remains silent, God speaks for him.'
Humera Malik, Author, Amman, Jordan:

'My mother is undoubtedly one of the greatest influences in my life. Three important life lessons she taught me are: First, don't worry about it—pray about it. From a very young age, she acknowledged my worries or fears and told me to pray for myself. Second, women can do hard things. My mother taught at a hard knocks high school for 28 years, where she tirelessly helped troubled (and troublesome) students through very difficult times. Finally, serve your community. From comforting a neighbour grieving the loss of a pet, to providing the elderly with lifts to the mosque, her practical example of service inspires me to this day. May Allah enable me to emulate these wonderful qualities of my mother.'
Nadia Ghauri, MSc Student, London, UK:
'"Of all the women in Paradise, the most noble are Khadija bint Khuwaylid, Fatimatul Zohra bint Muhammad, Mariam bint Imran, and Asiya (wife of Pharoah) (God be pleased with them)" (Musnad Ahmad, Vol. 1, p. 293)
I find the exemplary steadfastness, courage, and piety of Asiya bint Muzahim (ra) inspiring. Asiya (ra) was the wife of Pharaoh, who found baby Moses (as) floating along the river Nile. Upon finding him, she pleaded to her husband to let her adopt him. Hazrat Asiya (ra) raised Moses (as) and lovingly cared for him as her own. This was a dangerous but brave decision of Asiya (ra), given that her husband had ordered for all Israelite babies to be killed.
When Moses (as) grew up and announced his status as a prophet and began proclaiming the Unity of God, Asiya (ra) instantly accepted this message. This roused the fury of Pharaoh who tortured her in an effort to change her beliefs. Despite the cruel and evil forces around her, indeed from her very own household, Asiya (ra) never wavered in her belief. It is likewise striking how Asiya (ra)readily sacrificed bountiful wealth and treasures and instead gained strength from the spiritual wealth she had found through her adopted son.
I think it's worth remembering how Asiya (ra) did not let society's dominant views stray her. She suffered torture and abuse at the hands of her husband, and it is said that Asiya (ra) was executed on Pharaoh's own order. Despite this persecution, Asiya's (ra) sincere faith and fortitude did not diminish. The elevated status accorded to Asiya (ra) in Islam is typified by how God Himself has stated in the Qur'an: "And Allah sets forth for those who believe the example of the wife of Pharaoh…" (66:12)'
H. Shafi, Physics Teacher:

'Growing up in a small town in Pakistan in the early 2000's one would rarely come across women pursuing a career. Nonetheless, I was fortunate enough to be blessed by the company of quite a few successful and accomplished women. Amongst them, was my English schoolteacher. She was a graduate in Philosophy from the US. She loved books; she would carry a large bag full of books to school for herself to read and to introduce and lend books to students. She was highly motivated about her field and very knowledgeable. She showed us that one's career need not necessarily come to an end after marriage. Now that I am a mother of two, teaching Physics myself, I look back at that time and I am grateful to her for showing me the way to using the capabilities given to us women by Allah.'
Naba Ghauri Syed, BA (Hons) Eng Lit, Japan:
'When a burning meteorite collides with the surface of the Earth, the once-level site of our planet is permanently redesigned into what is known as an 'impact crater'. For me, Ayesha was my impact crater. Just as the impression left by the meteorite does not diminish with time, neither does the impact left by a true role-model after their passing. Rather, they leave behind a legacy to inspire and motivate you to grow.
My sister-in-law, Ayesha (1994-2021), encompassed all of her namesake's qualities of exceptional intelligence, sharp wit and tender heartedness. Never a murmur would resound that a person required help, but that Ayesha would be the first to volunteer. She spread her infectious laughter and joy to everyone around her and had a genuine love in her heart for all of God's creation. In the days prior to the accident, Ayesha had emptied her bank accounts to give everything in the way of Allah. At the young age of 27, she had the great honour of having the beauty of her character broadcast to millions of viewers all over the world during the Friday Sermon on MTA International.'
Sarah Nyarko Nurudeen, Nurse, UK (originally Oforikrom, Ghana):

'I find inspiration in a variety of people around me, but in all of them, I would have to say the one who has inspired me greatly is my Mother. She is Sarah Aba Adomah, who lives in Ghana. Mrs Sarah Nurudeen, as most know her, inspires me every day in the way she lives. She simply is the hardest and strongest person I have ever known. She was dismantled, ridiculed, trampled upon, because of how strictly she observed Purdah (the veil) and seclusion. Miraculously, with Allah by her side, she has succeeded over them in the end. Mrs. Nurudeen worked so hard to cater for her 8 children, especially at the time when her husband started facing financial challenges. In contrast with what most women did when there was no money for their children to go to school, my mother although uneducated, strived relentlessly to school her children. Even if it meant taking up menial jobs. She also needed to take up these jobs because she had to pay her Chanda (financial contributions). I recall how she used to save up coins every day in a box in order to pay her monthly Chanda.

She always quoted Ahadith (sayings of the Holy Prophet (sa)) to talk about the significance of acquiring religious and also secular knowledge. One particular thing about her was that she didn't like begging for things she was deprived of. I recall times when we used to bathe with only a sponge and water, because she didn't want to beg for soap. At times, we took porridge without sugar as our dinner. But in all this, she taught us always to say Alhamdullilah (all praise belongs to Allah), encouraged us to pray more and engage in dhikr-e-Illahi (remembrance of Allah). She always stood by her husband and children and amazingly stands by all vulnerable and helpless people. I always call her 'The Mother of the Helpless'.

I saw her in uncontrollable tears when she was in sujood (prostration) during Tahajjud (voluntary pre-dawn prayers). When we were kids, she introduced Islam Ahmadiyya to us as our only true and reliable family. She told us to solely rely on Allah for all our needs, even when in need of a shoelace! Mum taught us to always pray before examinations. She also taught us a sequence of prayers, to always pray for the Prophets, Ahmadiyyat, the Nation, followed by orphans and the needy etc.

She was keen to read the Holy Qur'an and encouraged us to learn it as well. She ensured that we always participated in Jama'at (Community) activities. Her life is filled with constant prayers and dhikr-e-Illahi (remembrance of Allah). In our locality, one key feature people remember is her daily cleaning of the mosque. Madam Sarah would always wake up early, perform Tahajjud and then clean the mosque and its environs.

She also has great interest in Tabligh (propagation of Islam) and always advised us to make our lifestyle and relationship with people a form of Tabligh. Alhamdullilah (all praise belongs to Allah), through her household about three people have converted to Islam, Ahmadiyyat – Mr. Qadr Ahmad (Local Youth Leader in Offinso Amoawi Circuit), Mr. Inusah Shaibu (Sekyere Zonal Youth Leader) and Mr Ibrahim, who is currently in Canada. How can such a person like my mum, be undeserving of being my role model or my inspirer? Sometimes, I keep wondering how fortunate Allah has made me, to have a mother like her. All that I am today, I owe it to Allah and my mother. I pray Allah out of His Love and Mercy, grant my mother good health, safety and keep her among His honoured guests on the Day of Judgment.'
Finally, His Holiness, Hazrat Mirza Masroor Ahmad (aba), mentioned another inspirational woman from Islamic history as he addressed Ahmadi Muslim Women in 2018:
'If we look at Islamic history, we need only to look at the example of Hazrat Ayesha (ra)[wife of the Holy Prophet (sa)] who attained a great status and who till this day continues to be an example, not only for Muslim women, but also for Muslim men. Where we hold her in high esteem because she was the wife of the Holy Prophet (sa), we also respect and honour her for her own personal qualities, nobility and achievements and she will always remain a role model for Muslims.'
---