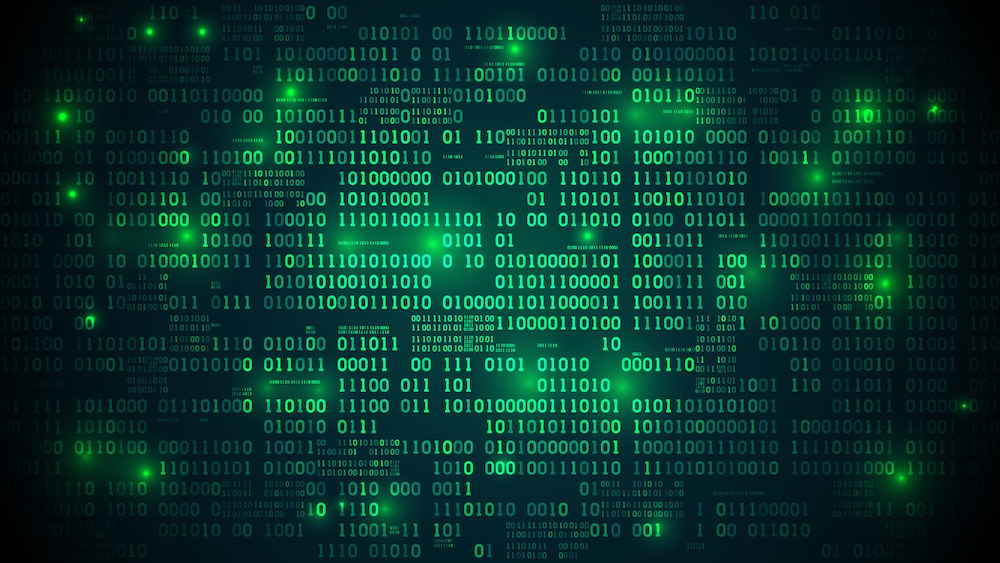 Mansoor Dahri, UK
Who will solve the secret sequence?
28–27–14–2–27–2–26–2–28–1–23–15–11-
1–2–27–14–10–1–28–27–47–16–11–34–14–11
7–1–5–34–23–34–11–14–7–23–14–10–1
14–5–28–7–34–1–7–34–11–16–1–14–7–2–1–7–5–1–14–1-
14–2–28–1–7-
This curious sequence of numbers came in a revelation to the Promised Messiah (as). It was also accompanied by the following mysterious symbol: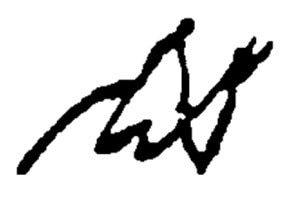 I copied this symbol from a PDF of the English translation of Tadhkirah, a collection of the divine revelations of the Promised Messiah (as). You can find it on page 255.
Here's a picture of the original numbers as the Promised Messiah (as) wrote them: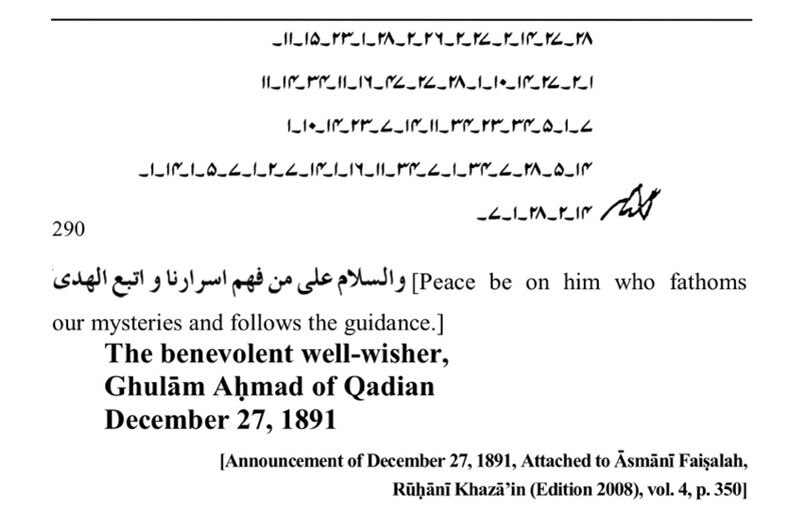 Although they may look very different, these numbers are not so far from our own; this is still a decimal-based system and is in fact the ancestor of the current system that we use today (hence why our numbers are still referred to as Arabic numerals).
Strangely, there are dashes after all the numbers except the last numbers in rows 2 and 3. In Urdu, a dash can be used as a full stop, a comma, or generally as a mark of separation. This may or may not be relevant. I have no idea. I am completely baffled and clueless.
For those of you who are interested, here's a list of the ten decimal digits in both systems:
1, 2, 3, 4, 5, 6, 7, 8, 9, 0
۱, ۲, ۳, ۴, ۵, ۶, ۷, ۸, ۹, ۰
Notice the similarities, especially between the symbols for "1", "2", "3", "9" and "0". It's a curious feature of writing numbers in Arabic and Urdu that, although the numbers are ordered right to left like the letters, within each number the order is left to right like in English e.g. "12" and "34" would be written as "١٢" and "٣۴" but would appear in reverse order as: "٣۴" and "١٢" (i.e. "34" and "12"), the first number in a sequence appears on the right and the last number appears on the left.
That was how the Promised Messiah (as) originally wrote the sequence. But here's a picture of the sequence in our system: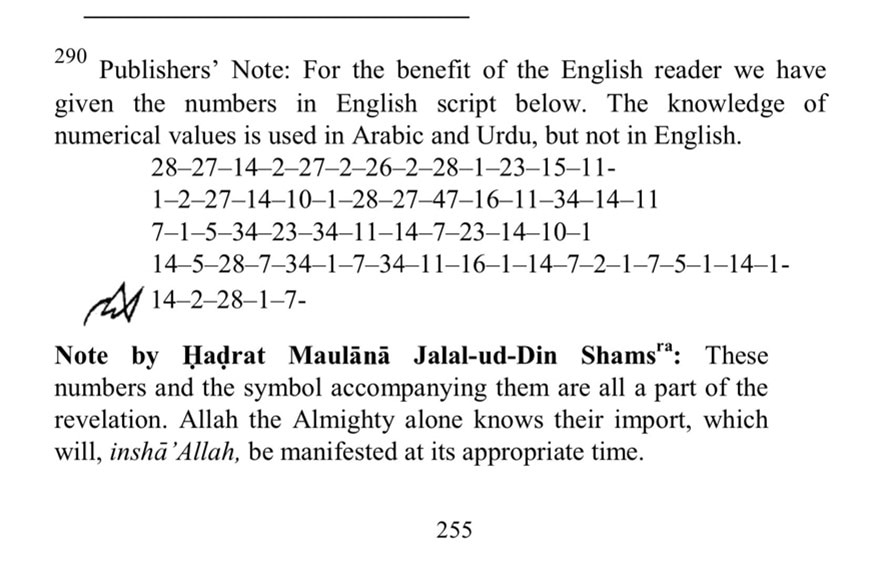 As you might've read, the publisher's note mentions something about the "knowledge of numerical values" used in Arabic and Urdu, but not English. As far as I can tell, this seems to be a reference to hisab-ul-jummal (حِسَابُ الْجُمَّل) which is known as "gematria" in English. This alphanumeric system was commonly used in Hebrew, Arabic and languages written in the Arabic script like Persian, Urdu and Ottoman Turkish. These numbers were thought to have a mystical significance and were once widely known in the Islamic world. Here's the complete list in Arabic:
ا (1) ب (2) ج (3) د (4)
ہ (5) و (6) ز (7) ح (8)
ط (9) ي (10) ک (20) ل (30)
م (40) ن (50) س (60) ع (70)
ف (80) ص (90) ق (100) ر (200)
ش (300) ت (400) ث (500) خ (600)
ذ (700) ض (800) ظ (900) غ (1000)
Sidenote: this was once the original order of the Arabic alphabet, hence why we call the system an "abjad" (the first four letters are "a", "b", "j", "d"). Although it looks more difficult, the original order was actually easier for people to remember; the whole Arabic alphabet could be summarised in 8 made-up nonsense words that were easy for schoolchildren to memorise: "abjad" (اَبْجَدْ), "hawwaz" (هَوَّزْ), "hutti" (حُطِّي), "kaliman" (کَلِمَنْ), "sa'afas" (سَعْفَصْ), "qurishat" (قُرِشَتْ), "thakhadh (ثَخَّذْ)", "dazagh (ضَظَغْ)" — once you learn how to do it, it's even faster than reciting "a, b, c…" in English. This system is also explains why the number "786" is considered lucky by many Muslims; it is the total numerical value of the phrase "Bismillahir-Rahmanir-Rahim" (بِسْمِ اللهِ الرَحْمٰنِ الرَحِيْم) i.e. "In the name of Allah, the Gracious, the Merciful". Some Musims even write "786" instead of "Bismillahir-Rahmanir-Rahim" at the start of their letters.
Anyway, as you can see, in a gematria system, the numbers go up almost logarithmically; once you reach a new power of ten (e.g. 10 or 100), that then becomes the new difference between the next number.
It's possible that this might be the key to the solution for working out the sequence of numbers.
And yet the sequence remains unsolved after well over a century. This makes it seem like the solution is more likely to be scientific or mathematical rather than linguistic.
After all, there's a note in the last picture by Hazrat Maulana Jalaluddin Shams (ra), a companion of the Promised Messiah (as), that the meaning of the numbers and the symbol will be manifested at the appropriate time.
To me, this seems like a strong indication that the answer might have something to do with a scientific or mathematical discovery that only took place many years after the time of the Promised Messiah (as). Perhaps it's something that might've even been discovered this year, who knows? Or maybe it's something that will only be discovered in a few years or perhaps long after that. Allah knows best.
But if you are a scientist, mathematician, cryptographer, statistician, programmer or anyone who just happens to work with numbers, see if you can crack the code and let us know.
And please remember that much of the information in this article may be irrelevant to the solution (I focused on the linguistic side of things because of my background but it probably isn't the key to the solution).
Here's the sequence and symbol one last time:
28–27–14–2–27–2–26–2–28–1–23–15–11-
1–2–27–14–10–1–28–27–47–16–11–34–14–11
7–1–5–34–23–34–11–14–7–23–14–10–1
14–5–28–7–34–1–7–34–11–16–1–14–7–2–1–7–5–1–14–1-
14–2–28–1–7-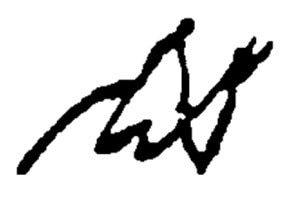 وسلام علی من فھم اسرارنا و اتبع الھدی
Peace be on him who fathoms our mysteries and follows the guidance
The Promised Messiah (as); 27th December, 1891
If you have any ideas or possible solutions, please let us know in the comments section below and help us solve this mystery.
About the Author: Mansoor Dahri is an online editor for The Review of Religions. He graduated from UCL in BA Ancient Languages.
---