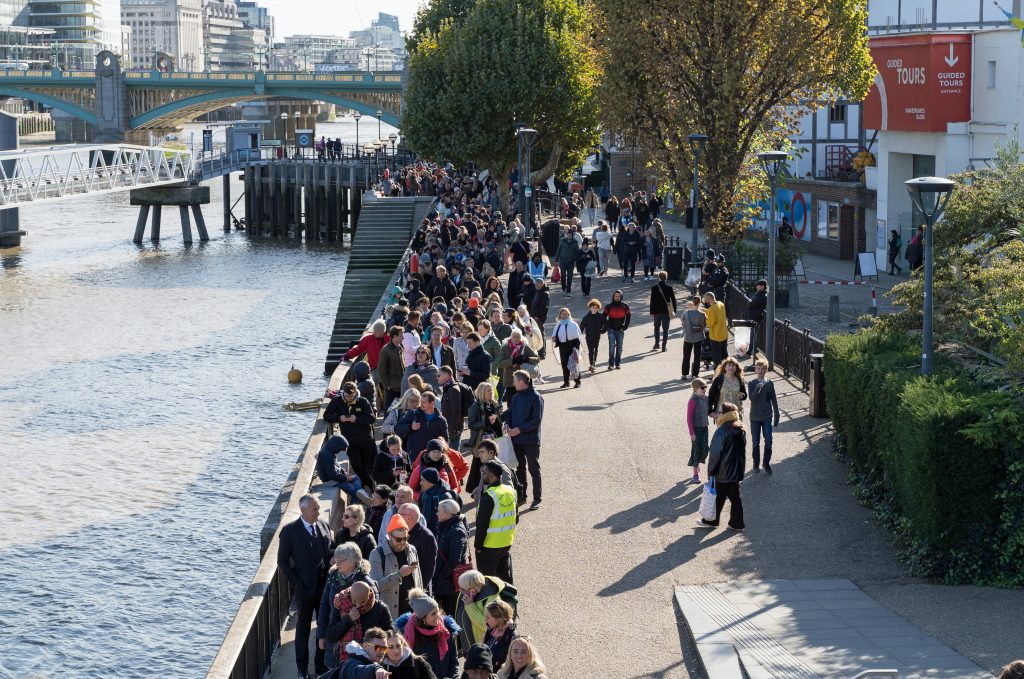 ©Shutterstock
Waqar Ahmad Ahmedi, UK
People join queues for many different reasons. Whether it's driving to the nearest Krispy Kremes or making the pilgrimage to Karbala, we are happy to undertake journeys and bear patiently for a simple, social, special or sacred purpose.
On Saturday morning my wife and I joined The Queue to see the Queen lying in state. As we got to Southwark Park, one of the marshals looked at us quite startled. Speaking in Mirpuri, he asked almost disdainfully 'what are you doing here?' My wife understood what he had said, but by the time she had translated it for me, we had moved on quite swiftly. It appeared that seeing a Muslim couple, or at least a woman with a hijab, lining up to see Her Majesty's coffin wasn't something he was used to, or perhaps approved of. Some friends had also expressed surprise at my readiness to wait for hours to pay my respects to our departed monarch.
I never met the Queen, but did see her once when I think I was around 8 or 9 years old. She was on a visit to the Medway area in Kent and was to be driven past my grandparents' house in Duncan Road, Gillingham. A huge crowd of excited people including my family gathered outside, fervently waving their Union flags hoping to get a glimpse of the Queen. When she arrived, it all happened in a flash. I remember the Queen waving at us, and my mother telling me that she and the Queen had made eye contact.
For my grandparents especially, it was a special moment. They were one of many tens of thousands who had fled East Africa in the early 1970s when Idi Amin expelled the entire Asian population from Uganda and the political situation in the region was uncertain. They came to the UK with their children, including my father, for a better life. For this, they had the British monarchy to thank, and my grandparents always spoke of them in the highest regard. The fact that the Queen had come to their road and passed by directly in front of their house was symbolic of her personally saying 'you are welcome, free and safe here.'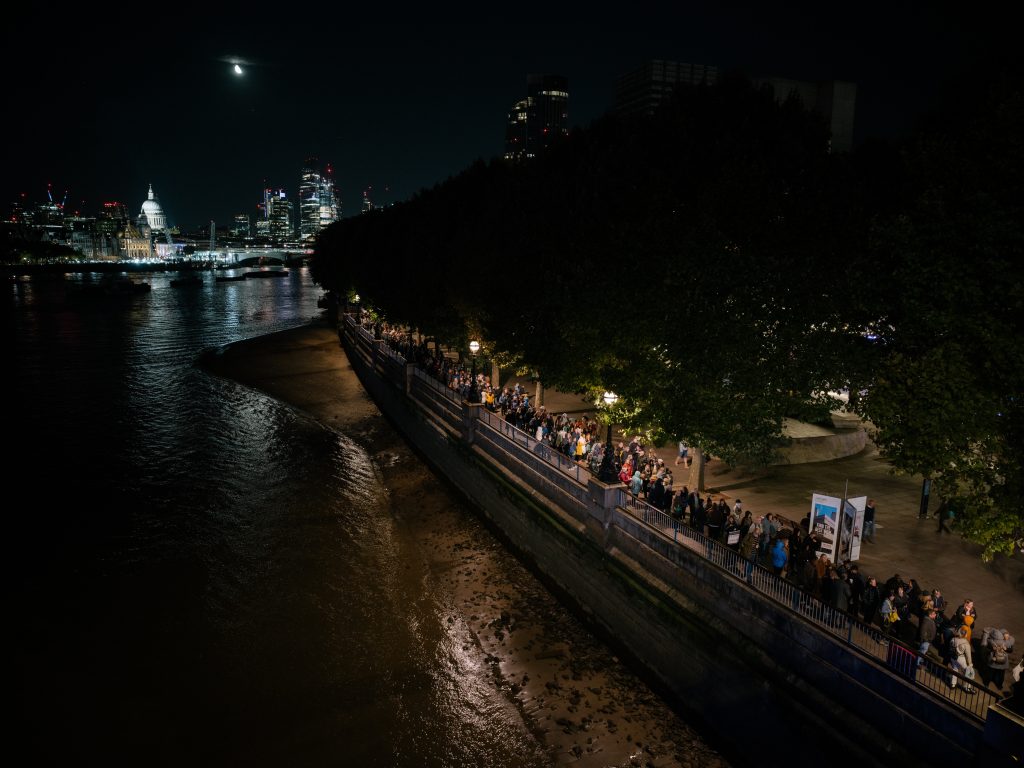 ©Shutterstock
It was also special for reasons of faith. My grandfather was a convert to the Ahmadiyya Muslim Community, a denomination of Islam that faces discrimination in many parts of the Muslim world including Pakistan, where successive governments have systematically persecuted Ahmadiyya Muslims. It was for this reason that our spiritual leadership, known as Khilafat, was forced to leave the country in 1984. Britain has granted us liberty of conscience and freedom of belief that unfortunately continue to be denied in some Muslim majority countries. In this respect, the Queen reflected the qualities of Najashi, the 7th century Ethiopian Christian king who had granted asylum to the first followers of the Prophet Muhammad when they escaped persecution in Makkah, Arabia.
Pledging allegiance and loyalty to one's nation, particularly when it protects your rights, is an Islamic duty. The Qur'an commands believers to 'obey Allah, His Messenger and those who are in authority among you' (Qur'an 4: 60). The Prophet himself taught 'Love for one's country is a part of faith', and that it is incumbent on Muslims to be thankful for the freedoms granted to them. He also said, 'One who is not grateful to people cannot be grateful to God.'
It is in this spirit that Hadhrat Mirza Masroor Ahmad, the spiritual Khalifa and head of the worldwide Ahmadiyya Muslim Community, said following Her Majesty's death:
"The Queen was our long-serving Head of State and she led this nation with great dignity and justice for over seventy years. During her reign, the United Kingdom remained a beacon of religious freedom in the world. Indeed, the Queen herself advocated for true religious freedom and inter-faith harmony on many occasions. Thus, we are grateful to have lived under such a gracious monarch."
He added that Ahmadiyya Muslims should be particularly appreciative of being able to practice their faith freely for which "we will always be grateful to Queen Elizabeth, the British Government and this nation."
Joining The Queue was my way of expressing this gratitude. And this was a shared feeling among all who were in the 'Elizabeth Line' and particularly the friends we had made during our 11-hour wait, our 'Queue Family' made up of people from different backgrounds and walks of life. We had beautiful conversations and spoke about everything from the weather (!) and education to politics and religion. There was a lovely spirit of warmth and togetherness, everyone sharing their food, helping each other gets cups of coffee, keeping each other's places when anyone needed a toilet break, and even lending mittens when the evening cold set in. Between us we represented the great diversity of faith and beliefs that we cherish and celebrate, one of the Queen's great legacies and no doubt inspiration for King Charles III to be known not only the 'Defender of the Faith', but the 'Defender of Faiths.'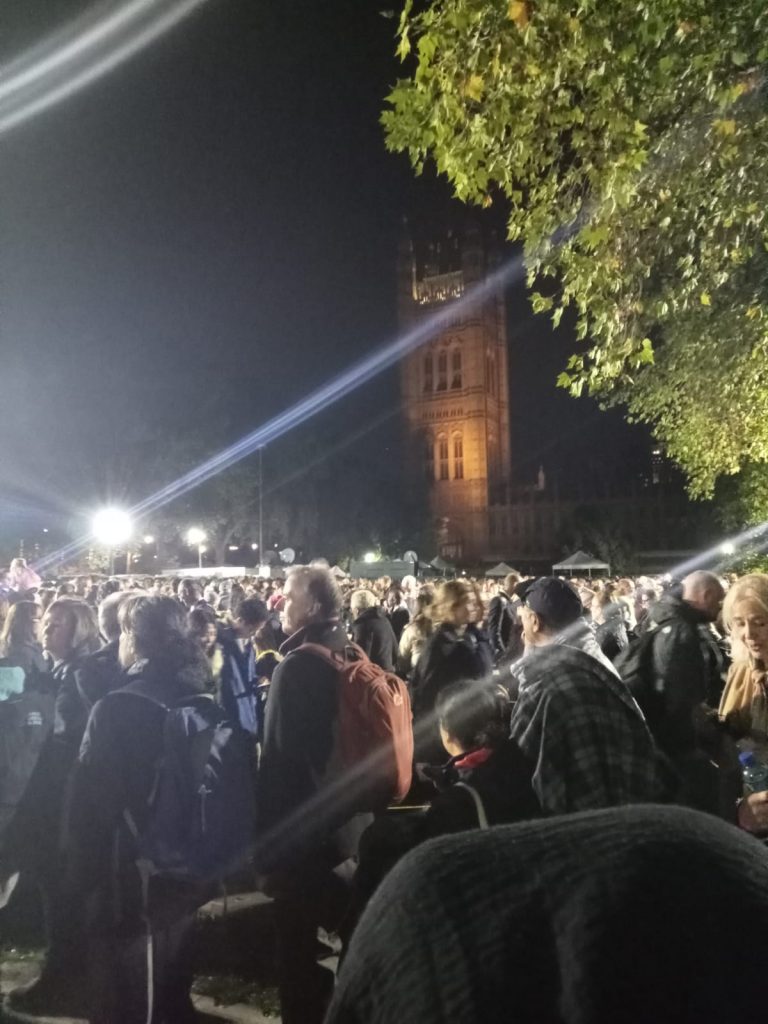 ©Waqar Ahmedi
When we finally entered Westminster Hall to see the catafalque, like thousands of others, I too was struck by the special atmosphere, and the opportunity to pause and reflect on what that particular moment meant to me. My first thoughts were my grandparents and the Ahmadiyya Khilafat. I offered the Qur'anic prayer 'To God we belong, and to Him we return' (Qur'an 2: 157), and expressed gratefulness for the rights and privileges that I, my family and friends have been enjoying under this Sovereignty.
It must be acknowledged that no system of government, including a monarchy, is perfect. This should not prevent us from valuing the things that are good, being thankful for the peace and protections we often take for granted and appreciating many virtues, including grace and dignity, that the Queen exemplified in her own life. She was nothing short of extraordinary, and as Archbishop Justin Welby said in his sermon at her state funeral, hers was "an abundant life" that touched "a multitude of lives."
That included my grandparents. I know what the British Royal Family meant to them, and that if they were alive today, they too would have wanted to honour Her Majesty's memory. 'Service' and 'duty' were among the many distinguishing features of her long reign, and by being part of The Queue and praying for her soul as she is finally laid to rest, I feel I have performed in a very small way an important service and duty of my own.
---
About the Author: Waqar Ahmad Ahmedi is Head of Religious Studies at a school in Birmingham, UK. He is also a subject consultant, author and tutor. He also serves on the Editorial Board of The Review of Religions