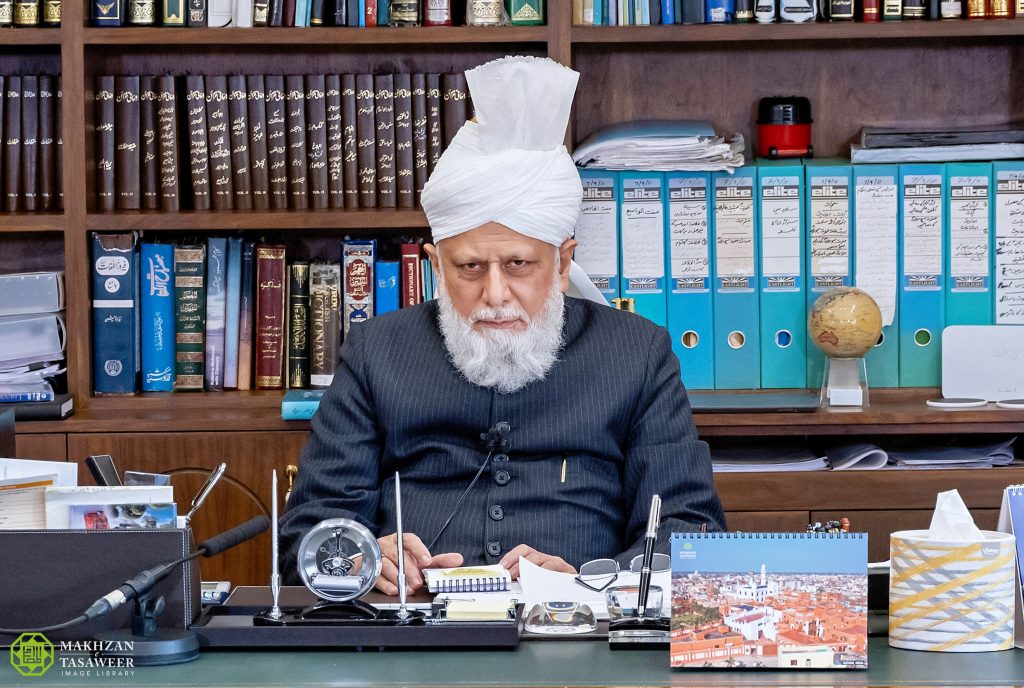 His Holiness, Hazrat Mirza Masroor Ahmad (aba) delivered a special message on 27 March 2020 in light of the current circumstances of the world. A Summary of this address is as follows:
His Holiness (aba) stated that due to the current outbreak of the virus, the governments around the world have imposed various restrictions, including here in the UK. One of these precautions is that congregational prayer cannot be offered in the mosques, unless there are only a few individuals.
He further stated that the exact laws however are not clear and people are offering various interpretations, where some are saying that only close relations can pray together, whilst others say friends and people living close to one another can pray in congregation, but even then, a distance should be maintained as prescribed by the government.
His Holiness (aba) stated that in any case, in light of the current situation, until there is no further clarity on the matter, the Friday prayer cannot be offered. The people are used to listening to the Caliph's Sermon each Friday, if not then people become disheartened. Therefore, after seeking consultation, he decided that instead of the Friday Sermon, he shall address the Community from his office in the form a message.
His Holiness (aba) then stated that as mentioned before, we will not be offering the Friday Prayer today, however members will be informed of the methods that will be adopted in future, particularly in view of the current situation. After consulting with the relevant lawyers, a solution shall be found as to what can be done in the future and let the members of the Community know. In any case members of the Community should offer their congregational prayers at home.
His Holiness (aba) said that these days, Al-Hakam has started a series about how people are spending time during the quarantine at home, which we should should benefit from. He then urged that one ought to use this time to improve their domestic lives and strive to improve the moral training of their children. Furthermore, he said families should watch the various beneficial MTA programs together. Most importantly, he said we should turn our attention to prayer and seeking forgiveness.
His Holiness (aba) then quoted a number of Ahadith[oral traditions of the Holy Prophet (sa)] with regards to when the Friday Prayers can be temporarily adjourned. He also mentioned that the Promised Messiah (as) stated that during a pandemic people should not congregate for prayer, in order to stop the spreading.
In the end His Holiness (aba) prayed that may God Almighty cleanse the world of this pandemic. May Allah Almighty enable mankind to discharge the rights of one another and to recognise their Creator.