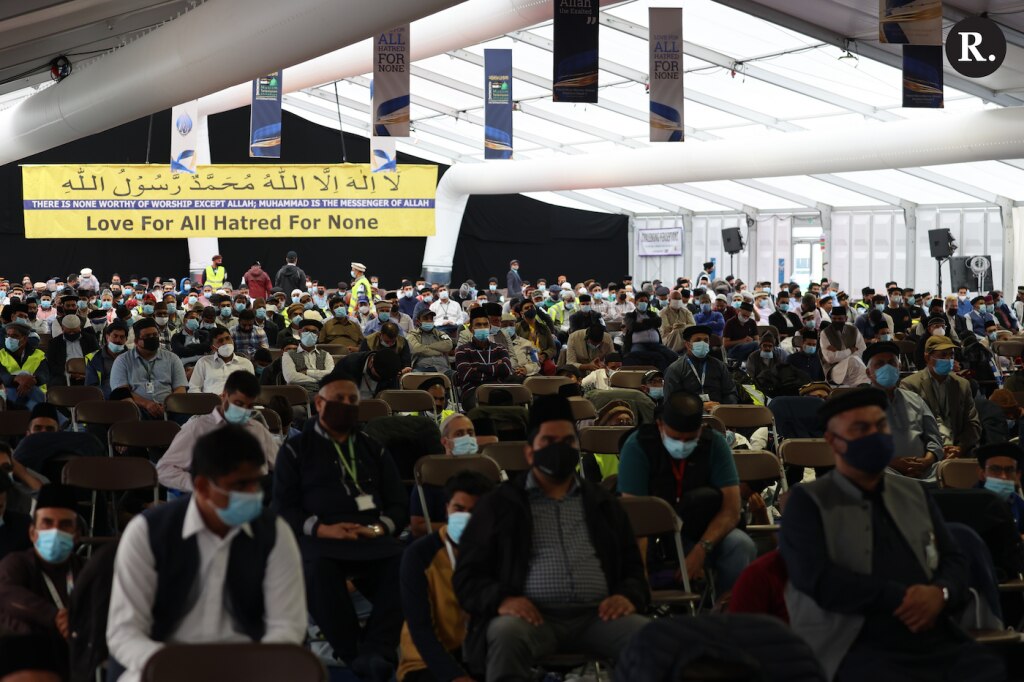 Under normal circumstances, many Ahmadis from Germany along with others from around the world travel to the UK to attend the international Jalsa Salana. This year however, due to Covid restrictions, those who normally would attend are not able to. The Review of Religions spoke to some Ahmadis from Germany to see how they're feeling about not being able to attend, and how they're keeping that same Jalsa spirit alive.
'It is kind of a strange feeling not being there. Because over the past years, I have travelled to almost every Jalsa and this will be the Jalsa which I can't attend. It was normally our family tradition to be there and it is strange to sit in front of the TV and listen to the speeches of Huzoor-e-Anwar (His Holiness) (aba), not seeing his presence, how he enters the marquee, how he holds the speeches, and [meeting[ the other brothers in the marquee. It is always a very blessed occasion to be there, to roam around, to check the latest publications of the Jama`at, this is also a big pleasure that can't be fulfilled this year. So the only chance is to watch the broadcast over MTA and to get this sort of feeling what Jalsa UK this year is like. 
This year i told my family we will stay the whole weekend in front of the TV and Jalsa will be present with us through MTA. I told them we are going to be couch potatoes in front of the TV and following the jalsa via MTa. Probably you can see more, you can get a glimpse of what is going on there but it is not the same. I am used to being there, to walk over the green fields of Hadiqatul Mahdi and it was always a pleasure to come there.'
-Waseem Burkley
---
I have, by the grace of Allah been given the blessed opportunity for many years to serve the visitors of Jalsa Salana UK who come from all over the world. It is always very faith inspiring to listen to the experiences of the vistors when they attend this blessed gathering and especially after listening to the speeches of his Holiness, Hazrat Khalifatul Masih (His Holiness) (aba).
This year as well as last year I really felt that something so important for me is missing when I couldn't attend Jalsa due to the pandemic. But by the grace of Allah we have been given the blessing of MTA through which we will be able to attend the Jalsa and receive the blessed prayers of the Promised Messiah (as)
-Imtiaz Shaheen
---
'Local Jama`ats worldwide are trying to have a setup in their local communities which resembles that of Jalsa Salana in as many ways as possible and then on top of it connect themselves live via the media and listen to the program which is broadcast from the UK. So in this, we hope that this will be a unique experience this year and we are also making efforts in our local Jama'at to set up in this way. 
We are currently trying to find a community centre. We have been anticipating this for the whole week that the potential landlord will approve our offer and that we could even in a larger scale for both men and women make a setup in Jalsa Salana style, but we haven't received the green light so far. So therefore, we got ready within the resources which we have and we have chosen two homes from members of our Jama`at who have larger homes  and one will be dedicated for the ladies gathering and one for the men's gathering at least on the last day according to the guidelines of our Khalifa.'
-Muhammad Younus Myahoffer
---
'Since I can remember, we went to Jalsa Salana in UK with our family every year. Everyone in the family knew they should be ready as soon as the jalsa came up. There have been years where we were not doing well financially, but my parents always intended to tale us to the Jalsa Salana in UK every year, and Allah Almighty has always given us a way to participate in the Jalsa UK. Sometimes I was surprised myself, as shortly before we left it looked like we were going to miss Jalsa Salana in UK that year. Then suddenly some arrangements would be made so we could go to the Jalsa and we would quickly pack our things and drive off to the Jalsa with the whole family. We have repeatedly experienced that if you take part in the Jalsa Salana with pure intent and for Allah's sake, all difficulties associated with the trip and the accommodation are solved with time. Allah assists the guests who come to the Jalsa Salana of the Promised Messiah (as). These trips and participation in Jalsa Salana UK have always strengthened our belief. Missing the last Jalsa UK in 2020 and missing Jalsa UK this year brings sadness for us, especially for my parents. My niece, Tabina Mushtaq, was born in 2020 and my parents would love to have taken part in the Jalsa with her. This year would have been the first Jalsa UK that she would have seen herself. The Jalsa in UK has always been a spiritually recharging event for us in a special way, as we were able to be close to Huzoor (aba) and listen to many speeches in the Jalsa Gah. It's sad that we can't be there ourselves this year. But it is also very gratifying for us to know that Insha'Allah (God-willing) Jalsa Salana UK will take place again this year and that at least by the grace of Allah we can participate in the Jalsa via MTA.'
-Ferhan Mushtaq
Stay up to date with all the latest Jalsa coverage by visiting The Review of Religions Jalsa Page.