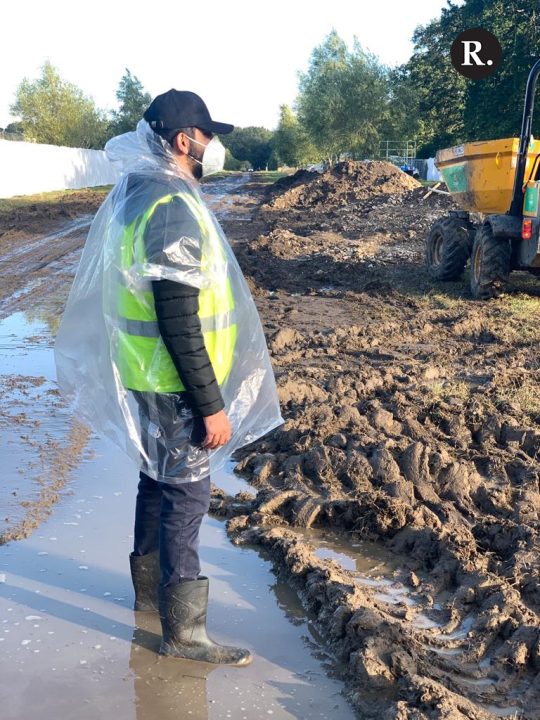 Syed Mohammad Ahmad Nasir, UK
It was 6th August 2021, the time was about 3:30 pm.
Jumu'ah (Friday prayer) was over, and most people were having their lunch. The lucky few who were randomly selected to attend Jalsa Salana UK were mostly either in the food marquee or resting before the flag hoisting ceremony and the first session.
I was going towards the main Jalsa Gah to prep the stage for the next session…I already had my lunch, and even had some tea.
One of the duty Khuddam (youth) was driving me to the Jalsa Gah. On the way up, we discussed the weather and the challenges of the holding the Jalsa in rain and mud.
We drove up the road on which Qafla (His Holiness' entourage) routinely travels. There were hardly any cars on that road at that time as most of the people had already exited the Jalsa Gah.
It had been raining off and on most of the day. During namaz (prayer) for a short time a strong bout of rain flooded the area.
By 3:30, the skies were a bit more clear, but the ground was wet…very, very wet. There was hardly a place where people could walk without getting their shoes wet and muddy, and in some cases, not just the shoes, but their cloths also.
As we drove up the road, I saw a khadim standing by the roadside, fully attentive to his duty. From his posture and stance one could deduct that Qafla is about to move through that area. But Qafla had long passed, and it would be hours before the next Qafla movement.  But amazingly, he was still attentively giving duty.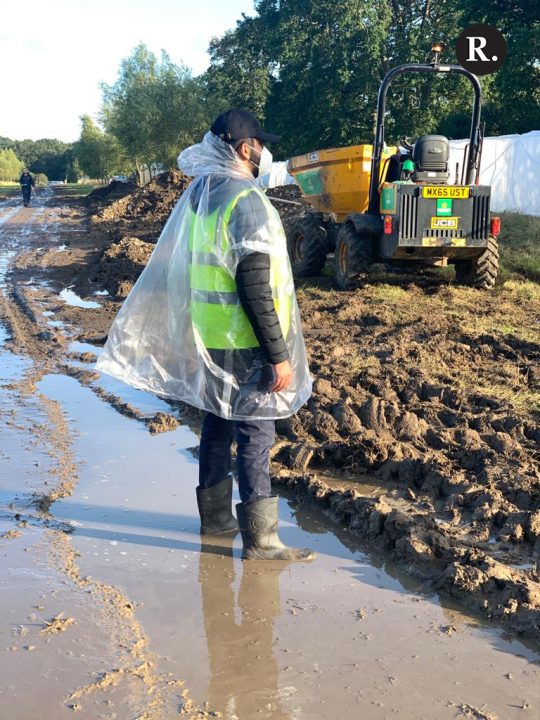 I asked the khadim who was driving me to stop near him. I got out of the car and approached him. He was a young man, who had just turned 19 a few days ago. He attended a university a few hours from his home and lived in a dorm. Due to Covid, he could not frequently travel to his home to be with mom and dad. After exchanging names, we got talking…
His Jalsa started several weeks ago when he got a call from his Qaid Sahib (local youth leader) and was asked if he could volunteer for the Jalsa set-up. He was asked if he could take part in Waqar-e-Amal (labour duty) which was to be held in Hadiqatul Mahdi the very next day.
Under normal circumstances, he would have gladly said yes to the Waqar-e-Amal, but the times were different now..He had just returned from university and had not spent much time with his mom and dad. He was a bit unsure if he could make it for that Waqar-e-Amal. He genuinely wanted to say yes, but felt that he should spend a bit more time with his mom and dad. Then and there, he decided that he wouldn't join this time, but would joing the next Waqar-e-Amal. He hung up the phone.
After hanging up the phone, a strange feeling took over the young 19 year old, 'why did I say no to my Qaid Sahib?' A feeling of unease, a feeling of not being satisfied with his own decision. He took out his phone and called his Qaid Sahib.
'Qaid sahib, Insha'Allah, Insha'Allah (God-willing), I will join you tomorrow'. And the next day, he came to Hadiqatul Mahdi…
The young man told me that he found the experience of Waqar-e-Amal so satisfying that from that day he came to each and every Waqar-e-Amal that his majlis (local chapter) took part in. He said, at times, he would even call up his Qaid Sahib asking to go to Hadiqatul Mahdi even if other regions were asked to come.
Then came the Jalsa days…and so did the rain. His duty was on the roadways of Hadiqatul Mahdi…..
He started his shift after Fajr (prayer offered right before dawn) – it was traffic control and making the roadways safe and secure. He had a keen eye for security and unsafe environments.
As time spent with him prolonged, I could not have been more impressed with his dedication. It rained on him during duty, rain was very strong at times, but that never deterred him from properly performing his duty. Upon my asking, he told me that he had just barely slept for a few hours over the last several days. Food was provided but at times, due to his duty, he would eat very late.
Then I asked him for leave as I had to get going for stage preparation, but before leaving I asked him 'what time did you start your shift today?', '4 am' he replied…… '4 am' I uttered, 'but that's almost 12 hours'
Gleaming with joy, without a hint of tiredness, he turned towards me and said 'Alhamdulillah (all praise belongs to Allah), but only 12 hours today…Other days have been even longer, Alhamdulillah'.
I had to leave, but I could not resist asking him 'it has been raining hard, weather has been horrible, most people can't even walk on these temporary roadways and here you are continuously standing in mud and deep puddles of water…' The young man simply answered, 'as the puddles of water got deeper, so did my passion for duty'.