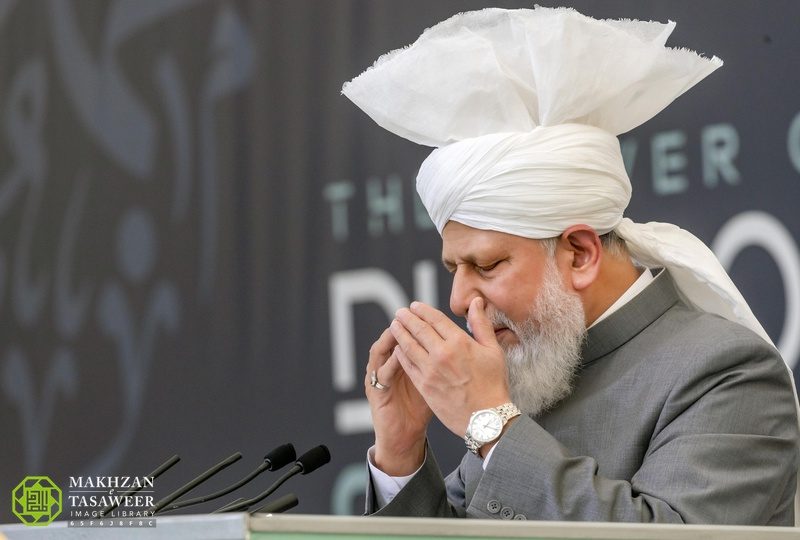 Professor Amtul Razzaq Carmichael, UK
A few years ago, I had a very demanding job, and it was almost impossible to have a Friday afternoon off. I tried to negotiate for a job where I could have Friday afternoons off, but things didn't work out. After a lot of struggles, one day I managed to get leave on a Friday afternoon and rushed home to listen to the Friday sermon.
As I switched the TV on, the Friday sermon has started, and I saw the faith-inspiring face of Hazrat Khalifatul Masih V (aba) [the Fifth Caliph] on the TV. I looked at the TV and thought how great it was to see Huzoor (aba) [His Holiness] and how nice it would be to see him in person. As I was thinking this, I saw a majestic radiance around the holy face of Huzoor (aba); the light was bright and pleasing to the eyes and was shimmering just like the sun. It was like Huzoor's (aba) entire face was surrounded by an immensely bright halo of light, with rays of light emanating from his face. It felt as if I was looking at the real face and not an image on the TV. This experience lasted a few minutes and was immensely empowering. The feelings of awe and reverence, that I experienced that day, have never left me since.
I am a very humble and weak servant of Ahmadiyyat and did not feel worthy of mentioning this to anyone. Reading the recent article in The Review of Religions made me think, maybe I should share this. I find it immensely faith-inspiring that two different women, in different time points, at two different geographic areas, who did not know each other at that time, encountered a similar spiritual experience!
The blessings of Khilafat [Caliphate] are innumerable and it is a special mercy of Allah the Exalted that He strengthens the belief of His humble servants with powerful experiences and signs. May Allah the Exalted make us true servant of Ahmadiyyat, Ameen.
About the Author: Professor Amtul Razzaq Carmichael MD, MEd, FRCS (Gen Surg.), MBBS, is a consultant. She qualified in 1987 with gold medals for academic excellence and undertook her surgical training at major teaching hospitals in London, Edinburgh, and Philadelphia. She has authored many articles for major peer-reviewed scientific journals. She is a senior member of The Review of Religions Editorial Board as well as Assistant Manager.