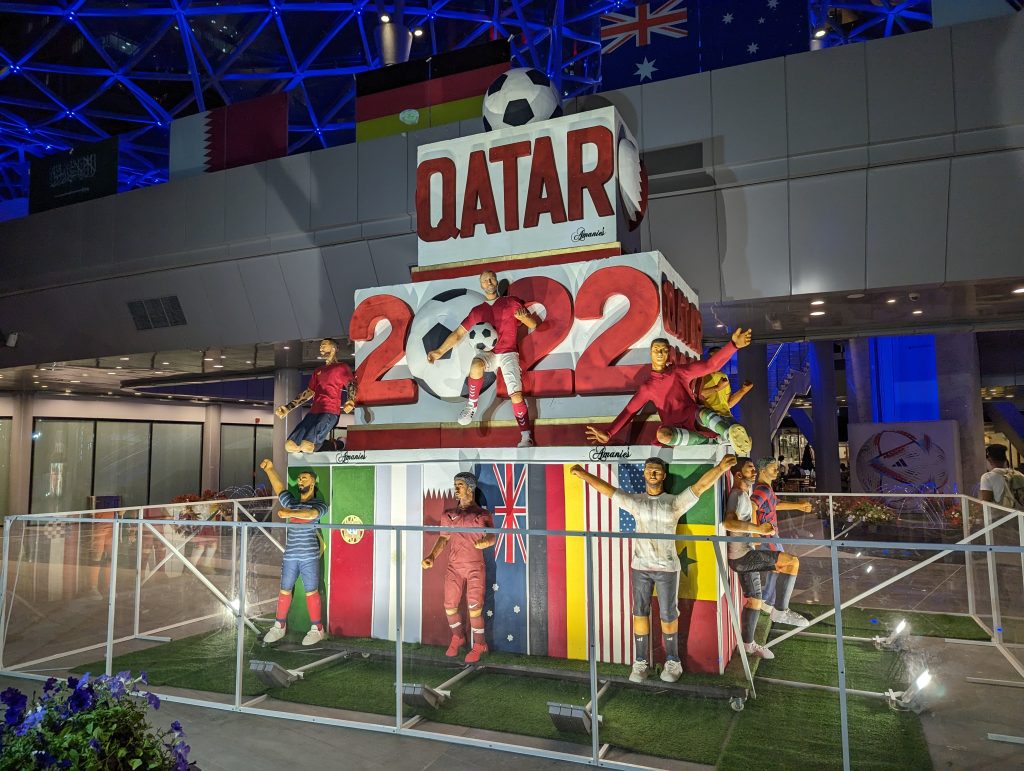 ©Mubariz Ahmedi
Waqar Ahmad Ahmedi, UK
I have always wanted to attend a FIFA World Cup. I vaguely remember Mexico 1986 and my father and uncles sitting around one of those retro portable TVs watching the phenomenal Diego Maradona's mesmerising performance against England. Since then I have been glued to every single tournament in the hope of making it to one in my lifetime.
That dream finally came true when I travelled with some relatives to the World Cup in Qatar. While we went at our own expense, my son Yusuf was given the opportunity of presenting a special report for 'Roundup', a children's news programme on MTA International. What an experience it was, and what a competition it has proven to be! Watching the greatest players on earth and one pulsating match after another – culminating in today's extraordinary final decided by penalties – have kept a global audience enthralled, not wanting to miss a single moment of the action.
It has been one of the most open finals ever with some huge upsets witnessed including Saudi Arabia's win over Argentina, Cameroon's defeat of Brazil, and Morocco overcoming Portugal to become the first African nation to reach the semi-finals. With so many twists and turns, many regard it as the most exciting World Cup to date.
For all the drama on the pitch, the tournament had initially been dominated by issues off it. Much media attention focused on Qatar being the first Middle Eastern country to host a World Cup and suggestions of a clash between Muslim and Western values.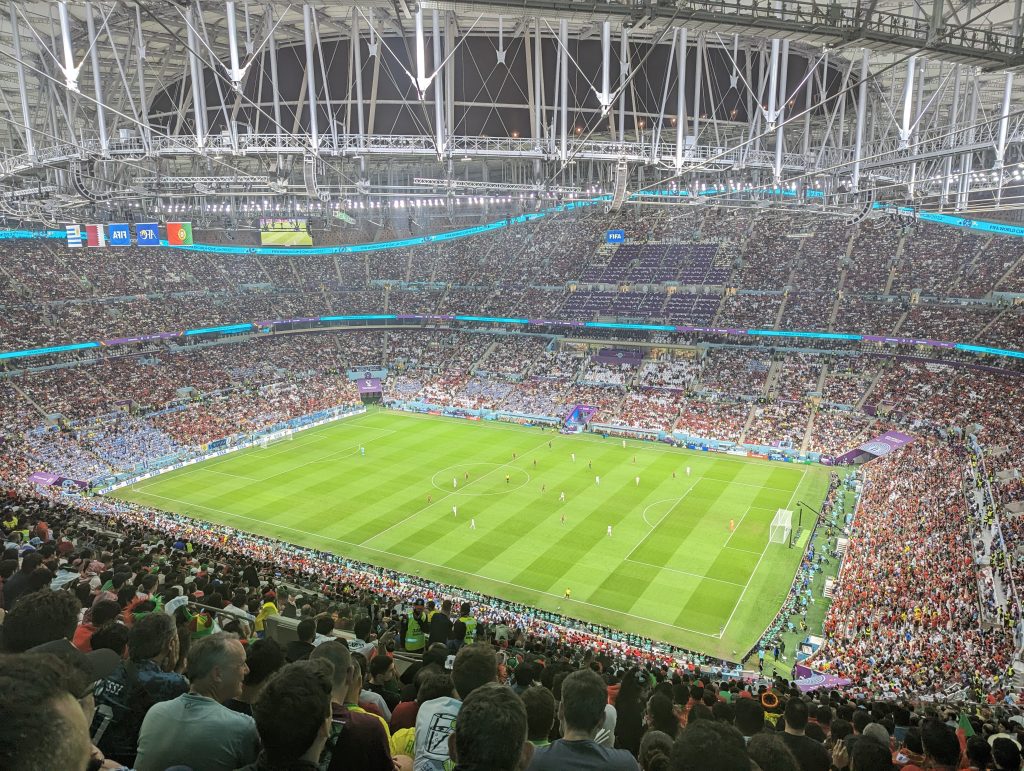 ©Mubariz Ahmedi
Being in Qatar provided a first-hand insight into the reality on the ground. Far from observing any conflict of cultures, we saw a real camaraderie between the hundreds of thousands of fans coming from all over the world. Hosts and visitors have been celebrating much they have in common beyond just a passion for football, sharing their love of all things from their own faiths and beliefs to fine food and good natured fun.
For the first time, all matches at the World Cup have been played in the same city, Doha, which was suddenly transformed into a global village. For any country with a population of just under three million, accommodating 32 national teams and their armies of supporters is no small feat. The organisation has been extremely slick, from the new state-of-the-art metro system and exciting entertainment at fan festivals to the efficient management of spectator queues and fully air conditioned stadiums.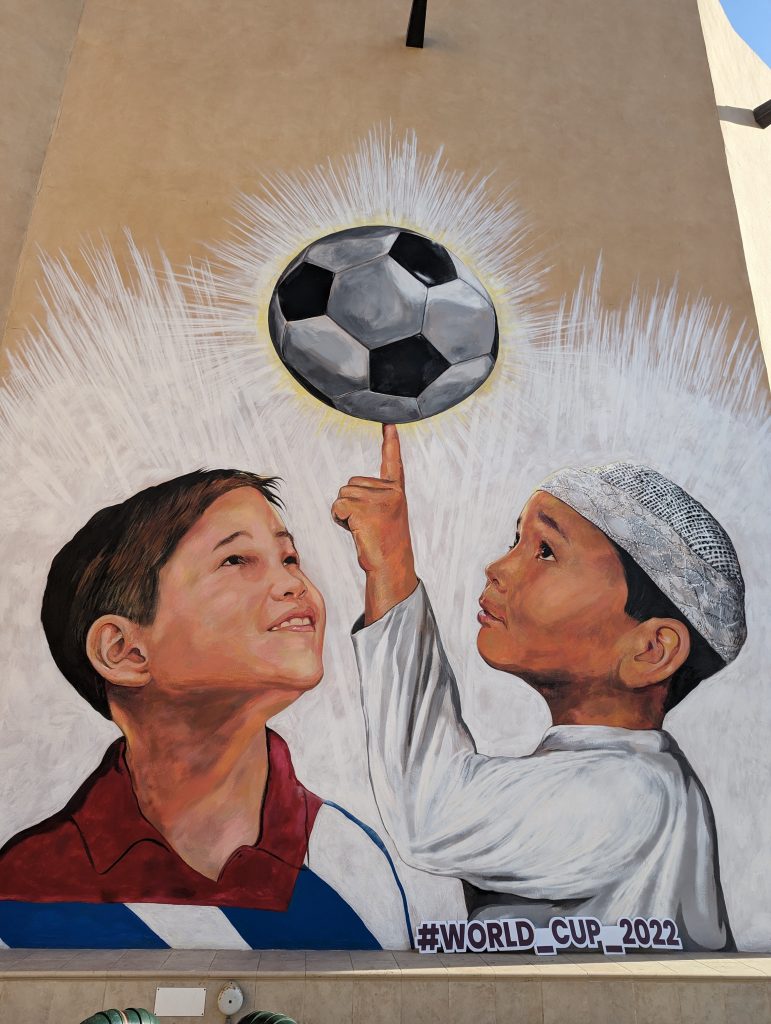 ©Mubariz Ahmedi
Many including Western broadcasters have spoken highly about their experience, and embraced and been inspired by Qatar's rich culture, heritage and hospitality. The 20,000-strong volunteer team have been wanting to make this the most memorable World Cup ever – their Herculean efforts may just have succeeded in this goal.
Messages of respect, tolerance and anti-discrimination have been promoted everywhere. Prior to the tournament, FIFA president Gianni Infantino gave his assurance that everyone regardless of their race, religion, gender, sexual orientation or nationality would be welcome. This was clearly evident wherever we went with a warm, inclusive and family friendly atmosphere being enjoyed by supporters from all backgrounds.
©Mubariz Ahmedi
On match days, fans of opposing countries have travelled, mingled and sat next to each other as well as stood in respect for each other's national anthems, while cheering their own teams on. One of the most iconic images of the World Cup has been the affection Moroccan players publicly showed their mothers at games. Restrictions on the consumption of alcohol and its ban at stadiums has been praised by many, particularly women and anti-sexism campaigners who have felt much safer at matches. It is also the first time that not a single British fan was arrested, leading to widespread agreement that it's time to blow the whistle on football's toxic drinking culture.
Qatar has been a great advert for exemplifying the principles of equity, acceptance and pluralism. Many non-Muslims travelling to the World Cup have been inspired to learn more about various aspects of Islam through the impressive multi-lingual exhibitions, virtual reality presentations and billboards around Doha.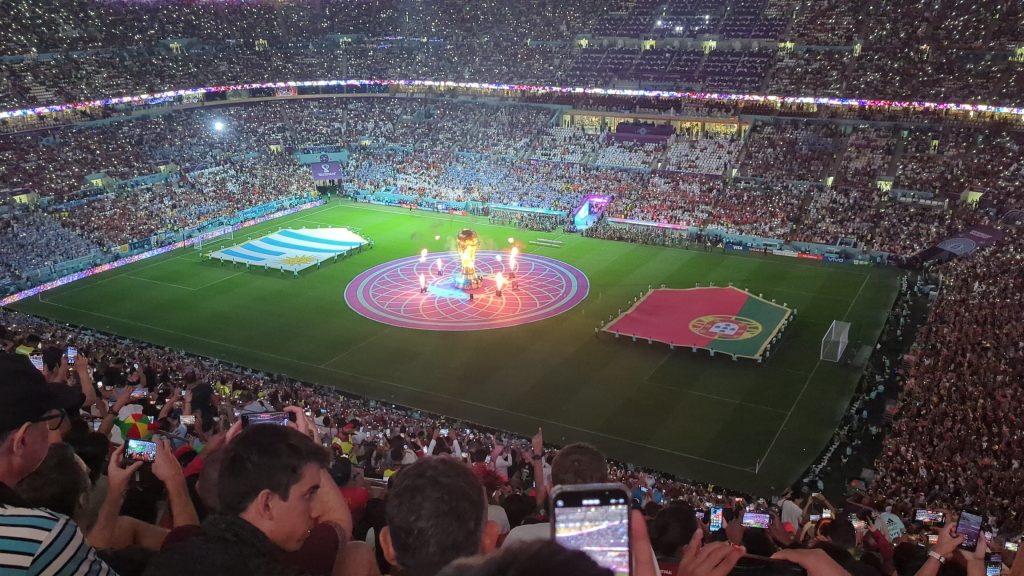 ©Mubariz Ahmedi
International sporting occasions have enormous appeal because of their potential for being a force for good. The World Cup is the United Nations of 'The Beautiful Game', has embodied the many noble values that unite people across the globe, and is enabling ties of fraternity and friendship to be further strengthened. It is the very reason humanity has been created so diverse.
"We have made you into tribes and sub-tribes that you may recognize one another." (Qur'an 49: 14)
As Argentina and the magical Lionel Messi celebrate their historic triumph, one hopes the World Cup becomes a beacon of lasting peace and progress beyond it. That indeed would be the greatest victory.
---
About the Author: Waqar Ahmad Ahmedi is Head of Religious Studies at a school in Birmingham, UK. He is also a subject consultant, author and tutor. He also serves on the Editorial Board of The Review of Religions