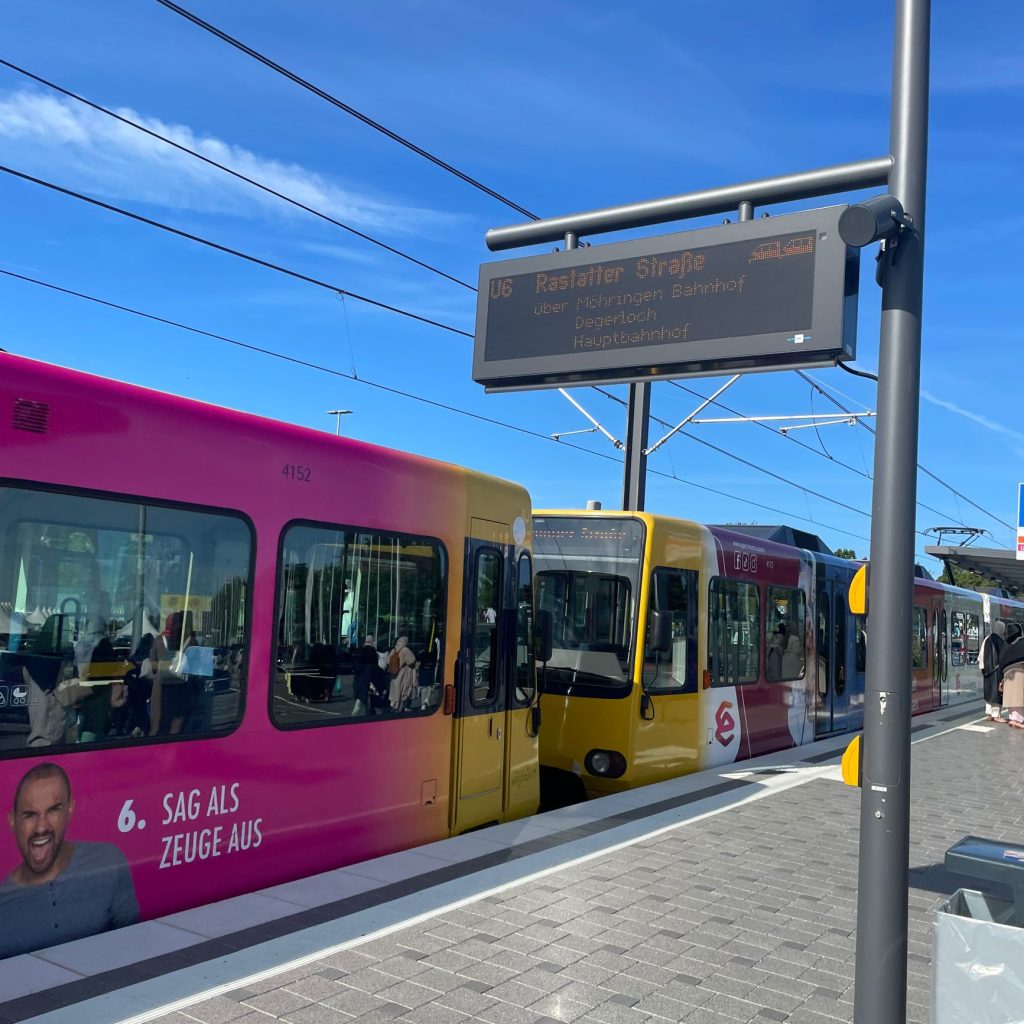 Komal Hadi, UK
This was my first time attending the Jalsa Salana in Germany. In reflection, when I started this journey on the ferry, my mind pondered over what I had to look forward to, and how this event could be different or similar to my 'home' Jalsa Salana UK. I was going to be a guest for the first time and not a host; for some, this may be a mundane thing. But for an attendee like me who has never ventured to a foreign Jalsa before, this couldn't be more exciting.
In some kind of beautiful and nostalgic way, I felt the magnanimity of the journey as I crossed the sea and drove hundreds of miles to sit again before my beloved Caliph. I, like my fellow Ahmadi brothers and sisters, will follow my beloved Caliph anywhere, and cry 'Labbaik' (I am ready and present) at his every word.
My husband and I offered our prayers in a quiet corner of the vessel, then in hotels and cars and petrol station stops, where we came across many other Ahmadis also on the road. Finally, we were able to pray behind His Holiness, Hazrat Mirza Masroor Ahmad (aba), the Fifth Caliph of the Ahmadiyya Muslim community, inside the massive covered stadium-like halls in Stuttgart, side by side, with tens of thousands in congregation.
Straight away, one of the most remarkable things I will always remember about this Jalsa is the tram that takes attendees from the entrance of the men's Jalsa side to the women's. In these short journeys, It was almost as if the world was occupied by just Ahmadi Muslims. Men, women and children in hijabs, traditional hats and with AIMS ID cards around their necks filled the tram seats. I recall asking a helper on duty, 'Sorry, I'm not from Germany, where do I get a ticket for this tram?' In Urdu, I was told, 'You don't need anything, you can use it as you are'. Who knew that by taking this tram for the last time, as it moved further and further from Jalsa Salana Germany, I would feel this pang of sadness to say goodbye?
Some attendees who were at Jalsa Salana UK and then travelled for Jalsa Salana Germany shared their thoughts, in reflection of these three days. Khumsa Ahmad resided in Germany for 16 years before moving to the UK, so her attachment to the Jalsa Salana Germany is an emotional one built over a decade. She fondly remembers the days she waited all year to spend her entire days here. From the moment of duty to the end of the third day, helping pack everything up at the end. She tells me her husband was supposed to come with her, but was unable due to visa issues, but he told her that if she is able, she should go and join in the event that she so loves. She says it will take a little time to get used to the new location here in Stuttgart as everyone slowly understands this new place.
Myra Farooq from the UK is another lady who shares an interesting perspective for foreign travellers. She says that by experiencing a Jalsa in which we are not the hosts, we can learn from each other and remove any flaws we may find we have back home. We can witness the goodness in others and therefore improve ourselves. An important point of self-reflection.
Sehar Chand has in-laws who live in Germany, and Jalsa Salana Germany has a special place in their hearts. She is, therefore, able to take part in the blessings of Jalsa with them and had been waiting eagerly for the pandemic to end, which would allow her to attend. She attended Jalsa Salana Germany after the UK Jalsa as 'Being part of the Jalsa celebrations is rewarding for the soul, it feels replenished. One is always looking for ways to gain blessings'.
All of us will soon say goodbye to those we've crossed paths with over the last few days. I will definitely keep in contact with the new friends I have made here. My next UK Jalsa will be seen through fresh eyes, as some of my perspectives and insights have changed while being here. The prayer of a traveller is a potent one, God Almighty is highly receptive to it as when in travel, one is away from the comfort of their home. So, for those who are to go back to their home countries, let's remember all the duty workers particularly in our prayers for giving us this experience.
Even with language barriers and borders, the Ahmadiyya Muslim Community is unified.