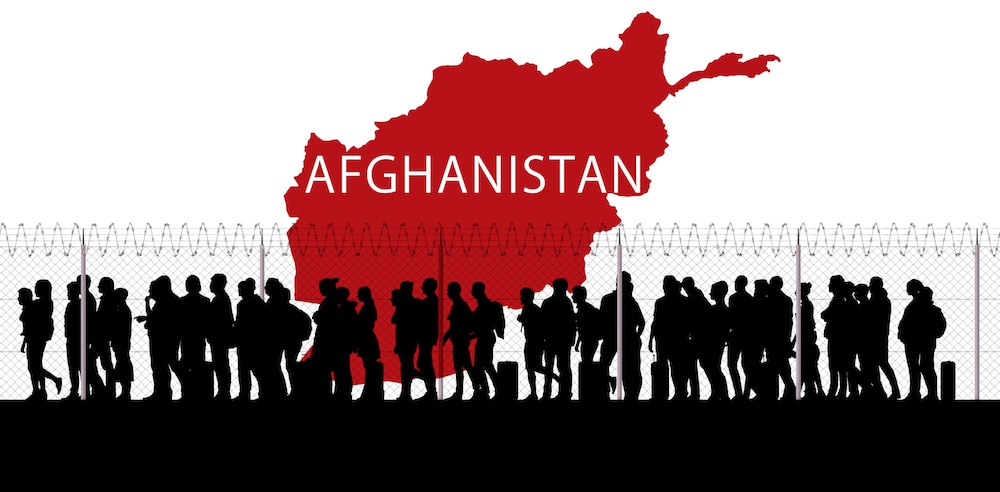 Ayesha Mahmood Malik, UK
The 9/11 attacks in the United States in September 2001 thrust Afghanistan to the forefront of what was declared to be the 'war against terrorism'. The country was already languishing for more than two decades of conflict arising from the Soviet-Afghan War that forced millions of Afghans to seek refuge in neighbouring Pakistan and Iran. The war against terrorism saw Taliban bases inside Afghanistan become the targets of aerial bombardment by the United States and its allies, forcing millions more Afghans to flee the country. According to the United Nations High Commissioner for Refugees (the UNHCR), an estimated six million Afghans have been displaced from their homes and country in the four decades of war, 1.4 million of whom are living in Pakistan. Having lived in Pakistan during 9/11 and the ensuing war on terror, I have vivid memories of young Afghans pouring into the country. With time the Afghan footprint in the nation's capital grew from Afghan children begging in the streets to the opening of shops selling Afghan bread and food, and the weighty presence of Afghans in the country has served as a continuous and poignant reminder of the plight of the Afghan people and their homeland.
It is no surprise then to hear the UN High Commissioner for Refugees Filippo Grandi characterise the Afghan refugee crisis as, 'one of the largest and most protracted in UNHCR's seven-decade history.' Afghanistan had already witnessed intensifying violence since early 2021 with an estimated 318,500 internally displaced Afghans by the middle of that year. However, the withdrawal of US troops from Afghanistan in August 2021 seemed to seal the fate of the Afghan people, taking the country to the brink of a humanitarian catastrophe. Since the recent crisis unfolded, many international organisations and private firms have been trying to assist in the repatriation of Afghan refugees to different host countries. One of the latter is a Toronto-based immigration, refugee and human rights law firm, Landings LLP. The Review of Religions spoke with one of the firm's partners, Jacqueline Swaisland, about how her firm has been trying to assist efforts in repatriating Afghan refugees to Canada.
Jacqueline Swaisland is an award-winning lawyer, educator and the author of two books on immigration. She obtained her LLM in International Human Rights and Comparative Constitutional Law from Harvard Law School, where she was a Fulbright Scholar.
AM: Your law firm has been involved in facilitating the repatriation of Afghan refugees to Canada. Tell us about your firm a little and the work you have been doing?
JS: Landings LLP is an immigration, refugee and human rights law firm. We represent individuals seeking refugee protection, temporary and permanent immigration status in Canada and Canadian citizenship. We also assist individuals and their families when problems arise with their immigration status. In addition, we act for non-government organizations who want legal advice and we challenge unjust laws and government actions through constitutional litigation. We are often involved in high-profile cases and regularly appear before the Immigration and Refugee Board and all levels of Canadian Courts, including the Supreme Court of Canada.
Our partners have been very engaged with assisting those fleeing the Afghan crisis. Prior to the departure of American troops at the end of August, we assisted individual families in leaving Afghanistan and advised larger groups of individuals who were likely to be targeted by the Taliban regime trying to evacuate the country. Since that time, we have remained actively involved in advocacy initiatives, advising public interest organizations on their efforts to obtain status for their members in Canada, and we have been involved in the recruitment and training of other Canadian lawyers so that they can assist on a pro bono basis those seeking to come to Canada as privately sponsored refugees.
AM: How are the needs of urgency with respect to relocating refugees fleeing dangerous conditions reconciled with often lengthy relocation processes? Are the challenges posed more legal or bureaucratic?
JS: The steps that the Canadian Government is currently taking to assist those fleeing the situation in Afghanistan include:
Priority processing of family members – though this is limited to spouses and dependent children;
Priority processing of permanent and temporary resident applications for Afghan nationals; and
A commitment to resettle 40,000 refugees through government assisted and private sponsorship mechanisms.
Canada's private refugee sponsorship program is a program that allows Canadian citizens and permanent residents to sponsor a refugee or a refugee family by agreeing to support them financially and help them settle into life in Canada during their first year in Canada. During the Syrian crisis, the Canadian government waived several of the requirements that are necessary for the sponsorship of a refugee, such as the requirement to have obtained refugee status by the UNHCR, in order to streamline the process and allow refugees to be processed and arrive in Canada faster. Unfortunately, the Canadian government has not yet waived those same requirements for refugees coming from Afghanistan, which has made it very difficult for many refugees to be sponsored to come to Canada. There are also processing backlogs that make this both a legal and bureaucratic issue.
AM: In your opinion, how can these processes be made simpler and more efficient?
JS: There are several key ways these processes can be simplified (most of these were recently outlined in an open letter that organizations such as Amnesty International, Human Rights Watch and my law firm signed on to), and they include:
Designate Afghan refugees as prima facie refugees and remove the requirement that they show proof that they have been recognized as refugees by the UNHCR or the country that they are residing in. This documentation is often not available or takes a long time to obtain in the countries surrounding Afghanistan making it a very significant barrier to obtaining protection in Canada;
Commit additional public resources to processing cases for those for whom it is not safe to wait for their applications to be processed in the normal manner;
Clarify the existing programs so it is clear who can benefit from these programs; and
Work with allies to demand assurances from the Taliban that it will allow those most at risk to exit the country.
AM: How would you describe the role of the media with respect to forging perceptions around refugees within Canada and beyond?
JS: The media plays a very important role with respect to forging perceptions. In 2015 when the photo of Alan Kurdi was published, the media mobilized the community in very significant ways. First, it mobilized the public to put pressure on government officials to increase their capacity to take in Syrian refugees. This ended up being a key issue in the election at the time, and pushed people in favour of voting for the Liberal Government which promised to quickly resettle 25,000 refugees. The media also raised interest in regular people, without familial ties to anyone in Syria, to want to be part of a private sponsorship group that sponsored a refugee or refugee family. As a result, we had much more human capacity to resettle refugees. With Afghanistan, the coverage of the situation has likewise mobilized individuals and again has the capacity to put pressure on the government to take additional steps to assist those fleeing the crisis.
AM: You have spoken about compassion fatigue in the past. Tell us a little more about it and why you think it is important?
JS: Compassion fatigue, also known as vicarious trauma, is a condition where individuals in helping professions, like lawyers, experience their own trauma as a result of repeatedly working with traumatized clients. Listening to traumatic events, looking at disturbing images, and being in a situation where a lawyer is playing an active role in a case with disturbing facts can all lead to compassion fatigue.
This is particularly the case for lawyers who regularly work closely for long periods of time with traumatized clients. Often in such circumstances, the empathy that helps the lawyer to build a strong and trusting relationship with their clients increases the chances that they will experience compassion fatigue. In the legal profession, this condition is often seen in refugee lawyers, family law lawyers, and criminal lawyers but it can occur in any discipline that comes into contact with traumatized individuals.
Understanding and recognizing the symptoms of compassion fatigue are very important as they can be serious and affect a lawyer's wellbeing as well as their ability to assist their clients. This is particularly the case as we all continue to face the Covid-19 pandemic and the additional stress and trauma that the pandemic has caused, leaving lawyers more susceptible to compassion fatigue and burnout.
About the Author: Ayesha Mahmood Malik is the Editor of the Law and Human Rights Section of the Review of Religions magazine. She is interested in Law and Religion, in particular Islam and Human Rights, the role of media in crisis reporting, International Human Rights and the import of religion on radicalisation. She has spoken frequently on these issues in the national media and various universities in the UK, including the University of Oxford and the London School of Economics. She is a graduate of Harvard Law School.