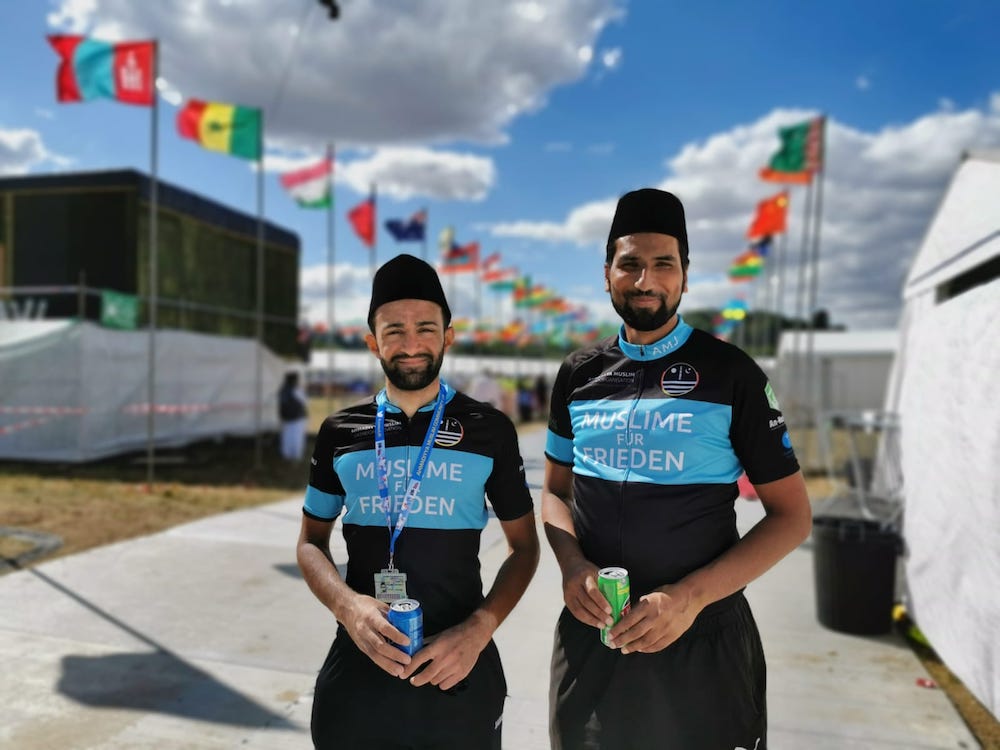 Amongst the handful of overseas attendees permitted to attend this year's Jalsa is a cohort of cyclists who set off on a 570km journey from Achen in Germany, by bike.
Crossing both land and sea, one would expect them to recount the difficulties they faced or show visible signs of tiredness. Instead, I bump into two enthusiastic and spirited individuals, Faraz Ahmad and Faizan Tanveer. Neither demonstrate any signs of fatigue and would otherwise have blend into the crowd, had they not been wearing their cycling uniform, emblazoned with the message 'MUSLIME fur FRIEDEN' (Muslims for Peace).
They cheerfully recall the journey and Faizan (left in the image) reveals this is his 4th time he has made the journey by bike.
'My first journey was in 2008. Since then I have made the journey several times – each journey has been more enjoyable than the last!'
It is Faraz's first journey, however, which meant additional training and preparation beforehand.
'We started training with Ameer sahib (National President, Germany) before the journey. Alhamdolillah (all praise belongs to Allah) the spirit was high and whenever there was fatigue, we would remember that every inch we progress, we get closer to our Khalifa, which would fill us with the strength to continue!.'
Both were immensely grateful, knowing they formed a select few individuals from Germany able to attend this year's convention.
'We feel honoured to represent our country at this year's Jalsa!.'