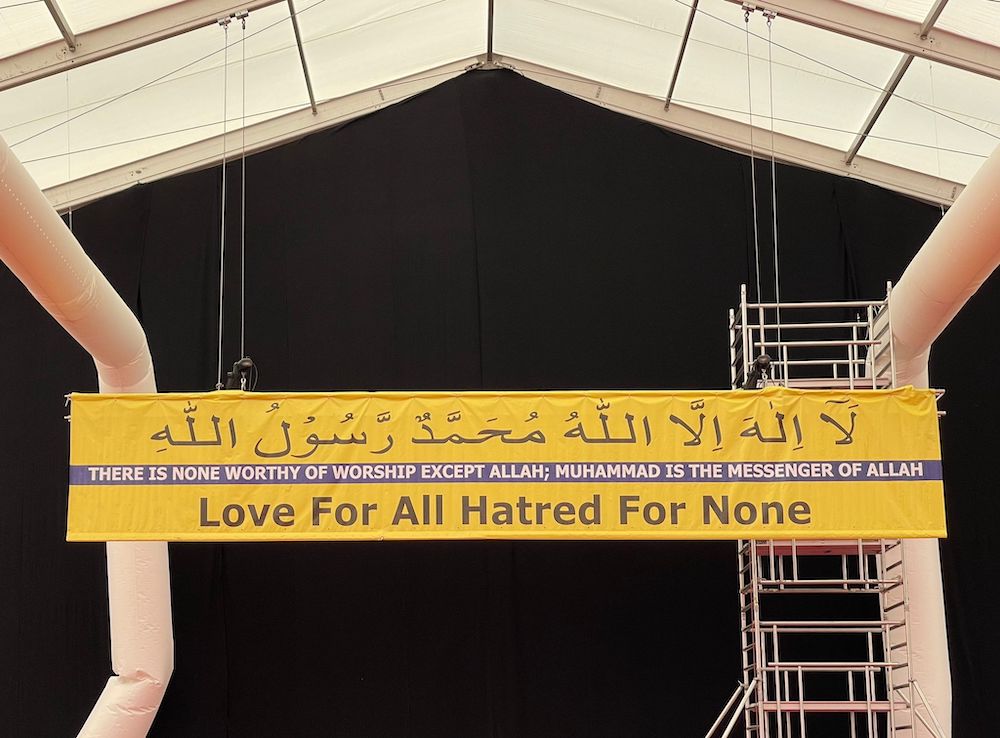 From the northern hemisphere, three ladies, Evita Vaska, Egita Vaska and Egija Uzane have travelled all the way from Latvia to be here at the Jalsa (Annual Convention), attending for the first time. Having spoken to a charity coordinator who introduced them to the Ahmadiyya Muslim Community and the International Annual Convention, they decided to make the journey and see the convention for themselves – travelling across the globe to quench their curiosity!
'We wanted to gain knowledge, and learn about the religion and the community from the inside' they tell us. Egita makes a gesture with her hands, as if she were opening an imaginary door. She couldn't have gotten it more right. For those who are not Ahmadi Muslims, by attending the Jalsa, it is like a door opening to a clear view of the Community. Jalsa is the place to gain a holistic picture of who we are because of the vast activities going on over the three days.
As the enriching dialogue about learning of new aspects about this Islamic Community continues, the ladies go on to talk about preconceived stereotypes regarding our religion which they have witnessed being broken here. We enquire, 'what was the main stereotype you think is broken?' Egita declares to us, with a strong sense of certainty in her voice – the misconception that, 'women have no power'. A poignant answer, but not a novel one. With women tending to tens of thousands of people at Jalsa, taking care of all the logistical, financial and many other aspects of this sophisticated event, this is clear. 'I'm shocked' exclaims Evita, when thinking about the sheer size of this convention. Stereotypes about Muslim women certainly come here to perish. Today, on Saturday, the names of those female students were read aloud who gained exceptional results in their studies. Many of these Ahmadi Muslim women are now doctors, engineers, writers and give back to their communities in countless ways as well as safeguard the futures of upcoming generations with their diverse skills.
The Latvian guests continue about their positive experience, 'the kindness that you bring to everybody, that you include everybody outside of the community". For a community whose motto is 'Love for All Hatred for None', this is the very soul of who we are, captured accurately by the words of our foreign friends.