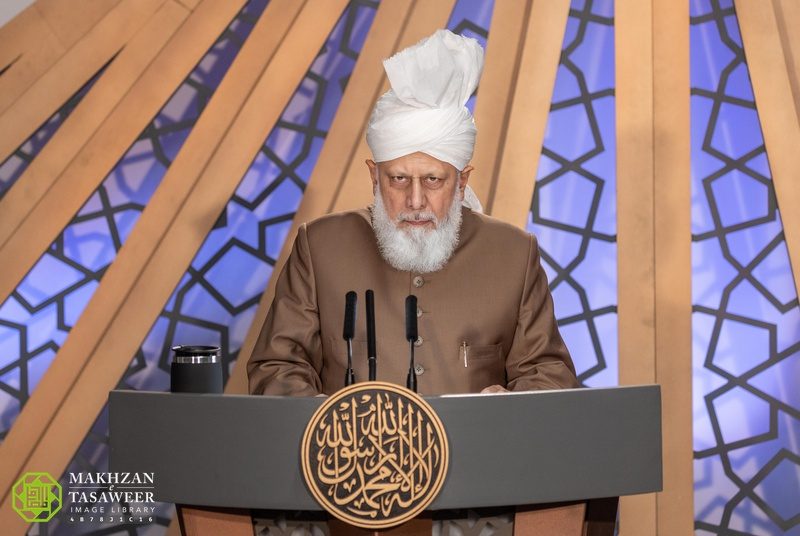 Shahrukh Abid, Canada
Mirza Masroor Ahmad (aba), Caliph of the Ahmadiyya Muslim Community is the leader of millions around the world. This leadership however, is not ordinary at all. Once, while advising leaders, the Holy Prophet (sa) said that their true morals would manifest when they thought of themselves to be servants of the nation. In other words, one way of determining the true moral character of a leader is through their humility.
By this standard, I myself am witness to the fact that there is no leader with higher moral character than the Caliph of the Ahmadiyya Muslim Community, Mirza Masroor Ahmad (aba).
An Audience with the Caliph, Hazrat Mirza Masroor Ahmad
The Caliph instructed me to visit Africa for two months in 2018 for training. I departed from Canada, and had a stop in London, UK along the way. I submitted a request to have a private audience with the Caliph, but seeing as I had coincidentally been in London two weeks prior and met the Caliph on that occasion, I was not approved for another meeting.
Later on however, I received word from the Caliph's Private Secretary, that the Caliph had graciously instructed for me to come and meet him. In those days, our beloved Caliph was extremely ill, but despite this, knowing that there were so many people who desperately wished for nothing more than to meet their Caliph, rather than resting, he took the time to meet with his people.
The Graciousness of the Caliph
When I walked into the office, I could see that the Caliph was not feeling well, and that it was difficult for him even to sit in his chair. Yet he was still there, to greet me and welcome me in. Of course having the chance to be in his blessed company, especially when he was not feeling well, was beyond what I could have expected. But then what he said next shook me to my core. The Caliph said,
'Forgive me, for I am unable to stand and greet you.'
I am nothing but a mere servant of the Caliph, yet he wished that he could have stood to greet me. The fact that he was even granting me this audience, especially in light of his health was gracious as it was, yet he still wished he could stand to greet one of his lowly servants.
This is the humility of the Caliph, Mirza Masroor Ahmad. This indeed is what sets him apart from any other leader today. It is this which shows us as Ahmadis, and the rest of the world, the high moral character of Mirza Masroor Ahmad (aba).
Shahrukh Abid is a graduate from the Ahmadiyya Institute of Languages and Theology in Canada. He currently serves as an Imam at the Headquarters of the Ahmadiyya Muslim Community Canada. He has also co-authored two books titled 'Quest of Curious Muslim' and 'Folly of Atheism'.